Published on Jul 13, 2022 9:00:34 AM
A few days ago, Info-Tech, a Canadian IT research and consulting company, listed THRON as a leader in its Data Quadrant Report - Product Information Management.
A new confirmation that our vision meets what brands really need.
Because it is only when assets and products are managed together that you can rely on a single source of truth, on a Throne.

And with the arrival of THRON 7, this is truer than ever.
Contents:
THRON among top PIM providers according to Info-Tech
Info-Tech has published its Data Quadrant Report - Product Information Management 2022.
The analysts analysed the world's top 30 solutions for managing product information in terms of customer base and features. From these, they than selected 13 software.
More than 270 customer evaluations, focused on features satisfaction and vendor expertise, resulted in the development of a quadrant divided into four categories: Leader, Product Innovator, Service Star e Challenger.
THRON is among the leading providers of Product Information Management solutions.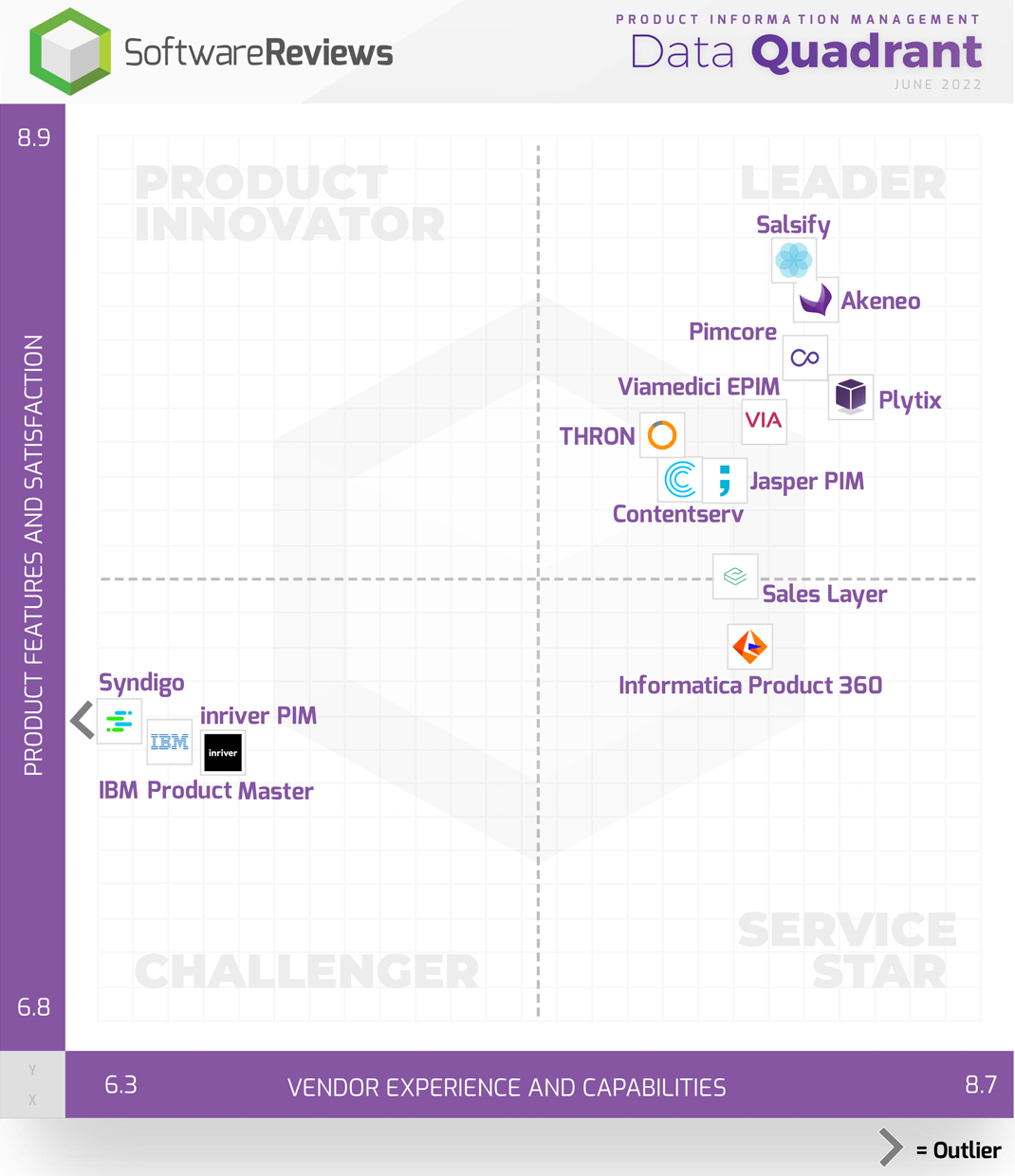 In particular, our platform excels for its ease of implementation, customer support and Digital Asset Management capabilities.
This award is particularly important, not only for THRON's achievements in terms of Product Information Management. In fact, THRON is the only platform - among those selected by Info-Tech - to manage digital assets and products in a unified manner.
Our unified media content and product management comes from afar
This is not a casual achievement.
We have always been clear about how important it is to manage from a single platform not only images, video, audio and documents but also the data and information of the products they represent.
Only a solution that adopts such an approach breaks down the silos typical of organisations where PIM and DAM travel on separate tracks, eliminating the costs required to continuously synchronise assets and information.
Not to mention that only a single platform enables the highest quality end-channel experiences.
This is well known by our customers, who have relied on us to govern the three key phases of the asset and product lifecycle from a single point: import, enrichment and distribution.
The result? A 360° governance of contents, understood as the union of multimedia assets and product data.
Analysts crown our vision of Throne
This is a new award in this 2022, following Forrester's recent inclusion of us in its NowTech MRM 1Q 2022 report, rewarding the flexibility of out platform, which can also manage digital flows in an integrated manner.
Analysts, therefore, recognise THRON's ability to go beyond simple digital asset management.
Info-Tech's accolade comes only a few days after the release of the next generation of our platform.
In addition to making us very proud, the attention of analysts and the satisfaction of our customers confirm that the path we have taken is the one that brands need to face the present and the future.
It is difficult to rely on real governance jumping between different applications and wasting time synchronising information in different software, which become real silos.
This is why we continue to go beyond the traditional definition of DAM, adopting an increasingly rounded view of contents, capable of encompassing all its facets.
We are a convergent platform where multimedia and product content are at the centre. A single tool that is not jost a DAM but can replace the PIM.
Images and videos, of course, but also the data and information related to the products they represent, the processes to create, enrich and approve them, up to their distribution, must to be optimised to ensure the best customer experience on the communication channels.
The success of a brand comes from the total governance of all these elements, not from their sum.
This is precisely the essence of THRON 7.
All our users must feel like Kings and Queens and govern the lifecycle of assets and products in an agile and effective manner from a single platform.
THRON 7 in three words
Kings and Queen, we said.
It is precisely by drawing inspiration from this metaphor that we are clear about what THRON 7 will become, release after release.
Every single feature will aim to make the overall vision of content as a union of assets and products even stronger.
To do this, we will rely on the three pillars as always.
First, user-centricity. Any features of the platform feeds the power of the Throne.
Great attention, then, to the

governance.

We imagine it as the Sceptre of the user.
Last but not least,

autonomy

. The real Crown that each user must be able to wear.
Only in this way the Throne will become even more of a Throne.
The new kingdom begins with workflows
Only if information, digital assets and related flows are brought together within a single tool collaboration can be truly efficient.
THRON WORKFLOW is undoubtedly the first achievement that this new kingdom brings. The first major release since the arrival of the seventh generation of our platform.
The imprint of THRON 7 is evident.
First, the builder interface for creating flows is totally no-code. Autonomy, remember?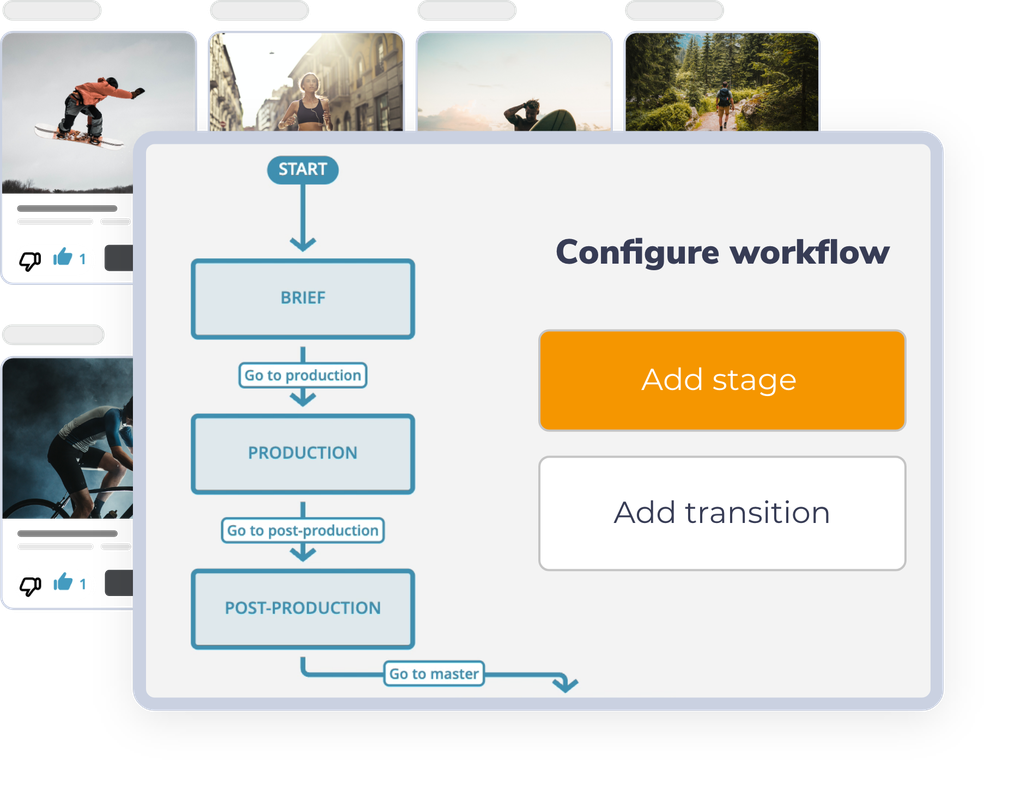 Moreover, governance is total because every step of the workflow, including the exchange of feedback and delivery to the final channels, takes place exclusively within the platform.

But we don't want to repeat ourselves: we have already talked about it this article.
Towards a new idea of digital ecosistems
THRON WORKFLOW is just the first step in THRON 7.
We do not underestimate the importance of specific features to manage contents, products and processes, quite the contrary.
However, in today's fluid environment, where we continuous talk about omnicanality and centralised user experiences, we must go further.
Further to the simple convergence between DAM and PIM.

The goal? Offer brands a digital ecosystem that supports them in a comprehensive manner.
Brands that use vertical tools to manage specific portions of the content strategy are encountering increasing limitations.
Because they give up governance. And they tend to run up (avoidable) costs.
There is difference between managing content and governing it.
And it is precisely this latter direction that has been taken.
We believe this is the right path for our Throne.
Remaining aware of both our history and the future challenges facing our customers.