Published on Feb 3, 2022 9:45:00 AM
In Italy there are about 20 million people who practice sports1 and who, therefore, fuel the sporting goods market. After an upward trend from 2015 to 2019 and the inevitable slowdown during the pandemic, according to PWC2 the sector is growing, and will do so constantly in the short and medium term, reaching a turnover in excess of 6.5 billion euros by 2025.
However, to achieve these results the brands in the sector will have to implement different sales strategies from in the past. In fact, the restrictions enforced in recent times have profoundly changed the purchasing habits of users, who are increasingly shifting to online sales channels. This trend will gradually grow in strength in the future because, according to PWC, one sporting goods purchase in four will be made via digital channels by 2023.
Many businesses in the sector are adapting to this trend. In fact, within a sample of Italian sporting goods businesses, 66%3 were found to have already launched (or to be launching) a digital transformation process, in most cases involving the marketing area and proprietary e-commerce and presence on the main marketplaces in particular. This is a very understandable choice given that, according to Shopify4, figures, retailers' global sales via e-shops will be worth more than 6 billion euros in 2024 (compared to 1.3 in 2014).

Digital channels guaranteed resilience during the pandemic and the pathway to the sector's future is fairly clear. However, the new sales trends demand suitable marketing strategies and tools. Managing contents and product information and distributing them in a coherent, relevant, personalised way across all the brand's communication channels (including e-commerce) is fundamental.
At THRON, we have been supporting various marketers in the sector for some time, and we have decided to draw on our experience in this article to summarise some of the content and product information management challenges that sporting goods marketing can overcome with the aid of the THRON DAM PLATFORM.
1 La pratica sportiva in Italia, 2017, Istat.
2 Sportswear Market Outlook, 2021, PWC.
3 Digitale e Sport, 2020, Osservatorio Assosport Digital Enterprise Lab dell'Università Ca' Foscari di Venezia.
4 The future of commerce – Trend Report, 2022, Shopify (dati Statista).
1. Management of every asset's entire lifecycle is integrated
The workflow leading to the creation and publication of a content to support brand or product communication may be particularly complex, especially in sectors like sporting goods, where the visual component plays a crucial role.
In every case, having a solution that enables an overview of the content's entire lifecycle can be invaluable. In fact, many marketers (and many DAM platforms) do not immediately factor in publication on the final channels, although this aspect is fundamental for reaching targets.
The THRON approach works in this direction. Shifting the focus to the distribution of contents and product information on all channels in real time and without duplications on the one hand, and providing the unified management of contents and product information on the same tool on the other, simplifies not only distribution but also the management of every single process. Below we provide some examples of businesses in the sector which have benefited from the THRON DAM PLATFORM to support their contents strategy, for creation, approval, organisation, distribution and analysis activities.

2. The management of sports clothing photoshoots
Let's start with a classic example of a digital asset creation and approval phase: photoshoot management.
If not properly managed, projects of this kind can generate inefficiency. In fact, the process involves not only the brand's marketing team but also outside players (such as creative agencies and photographers) who collaborate - or rather attempt to collaborate - using a myriad of different tools. WhatsApp, Telegram, WeTransfer, Google Drive and DropBox are just a few of these, not forgetting the inevitable emails.
Consequences? It is impossible to obtain a global overview of the process and the progress made with activities and hard to access the information and assets needed, while versions proliferate. This "noise" inevitably slows down productivity and often leads to stress and frustration for marketers, because even a simple request for a change - very common for content developers - may seem to constitute an unsurmountable obstacle, to be added to the already almost endless list of activities.
All those involved in the organisation of our customers' photoshoots - and photographers and the people working on post-production - use THRON PHOTOSHOOTING, the THRON DAM PLATFORM expansion for the creation and approval of the shots of any sporting goods article from a single platform. What's more, within the platform they can also associate the relative product information to every digital asset, facilitating and improving the efficiency of the tasks of those working downstream (such as the people who manage e-commerce).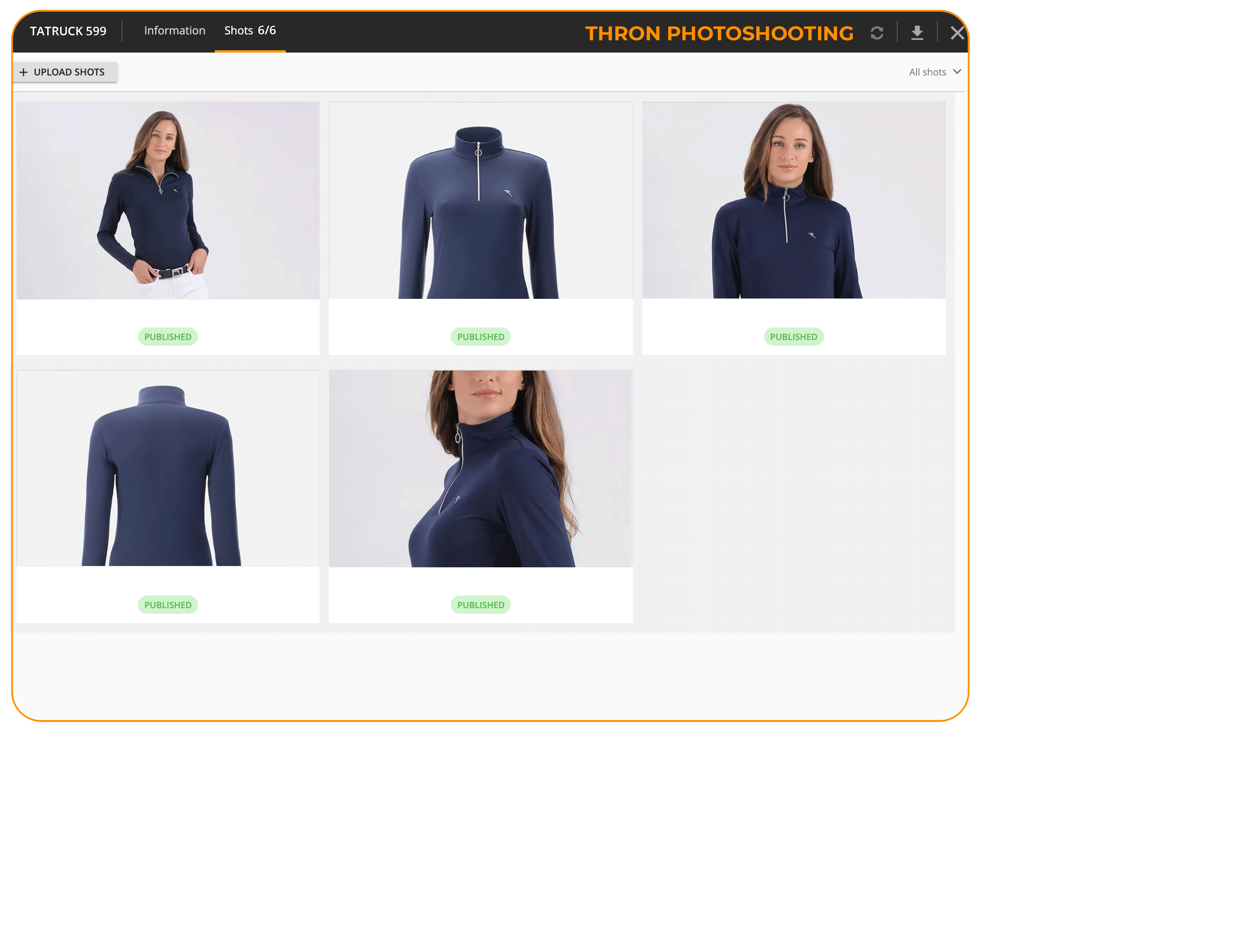 3. Multimedia content distribution without duplications: some practical examples
Contents' creation and approval phase is important, but it is only part of their lifecycle, which also includes an activity that is often undervalued: distribution.
The example of a motorbikers' product brand: a single hub for management of all assets
Let's take the example of a company that produces and sells products for motorbikers. Communications must support the sale of hundreds of different products by producing thousands and thousands of contents destined for dozens of channels with widely different approaches and objectives: websites, apps, e-commerce, email marketing, catalogues and point-of-sale materials.
The images of a new helmet ready for market launch, for example, are used by digital marketing specialists, e-commerce managers, email marketers and visual designers on all the platforms on which the brand communicates, such as the corporate website, the app, the online shop, the newsletter and the catalogue. To update the image or description of the helmet concerned - and any other product sold - all these people's workflow must be repeated: they have to download the new version of the asset, then remove the previous version and replace it with the updated one, for each channel. The main benefit reported by sporting goods businesses that use the THRON DAM PLATFORM is that they can forget all about these costly procedures because the platform does the job for them.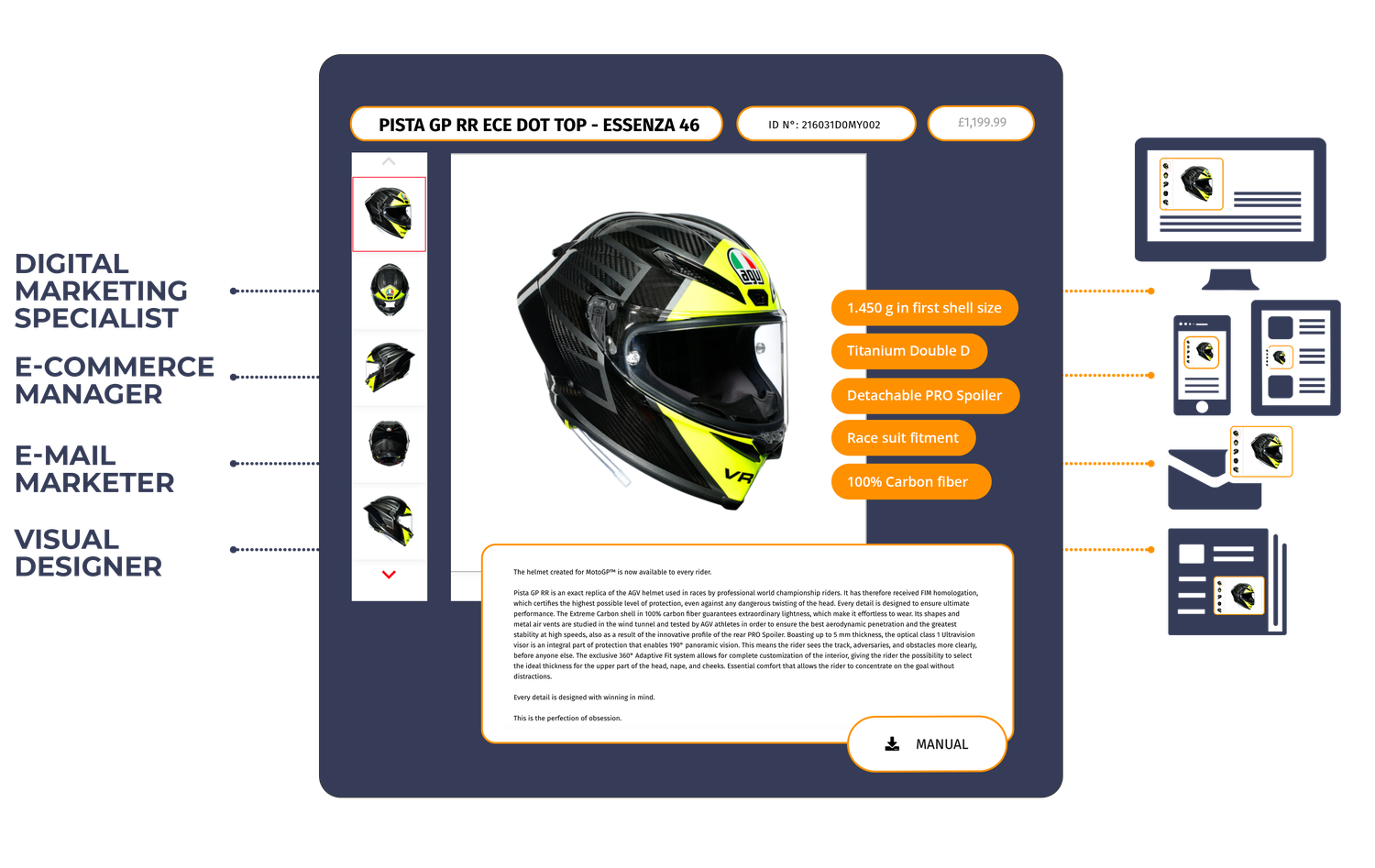 Thanks to the solution's powerful distribution functions and its many capabilities for integration and dialogue with any touchpoint, every asset's presence on one or more destination channels can be orchestrated directly from the platform. Therefore, just updating the content's version within THRON is sufficient to update all the channels where it is distributed.
The key role of a DAM platform in supporting e-commerce.
E-commerce is a main sales channel for sporting goods. In a survey conducted by Accenture and GEODIS on a sample of European businesses, 56% included growing their e-shop amongst their stated objectives. In particular, businesses forecast that the share of turnover generated by their online shops, which now averages around 5-8%, will rise to 20-30% by 20255.
THRON DAM PLATFORM enables optimised distribution on e-commerce channels as well, facilitating the management of the graphic and textual descriptions of products and categories, as well as purchasing guides. These are Performance Content, special types of contents fundamental for improving the sales performances of online stores, since they support the user in every step of the purchasing experience, aid good organic ranking on search engines and encourage cross-selling.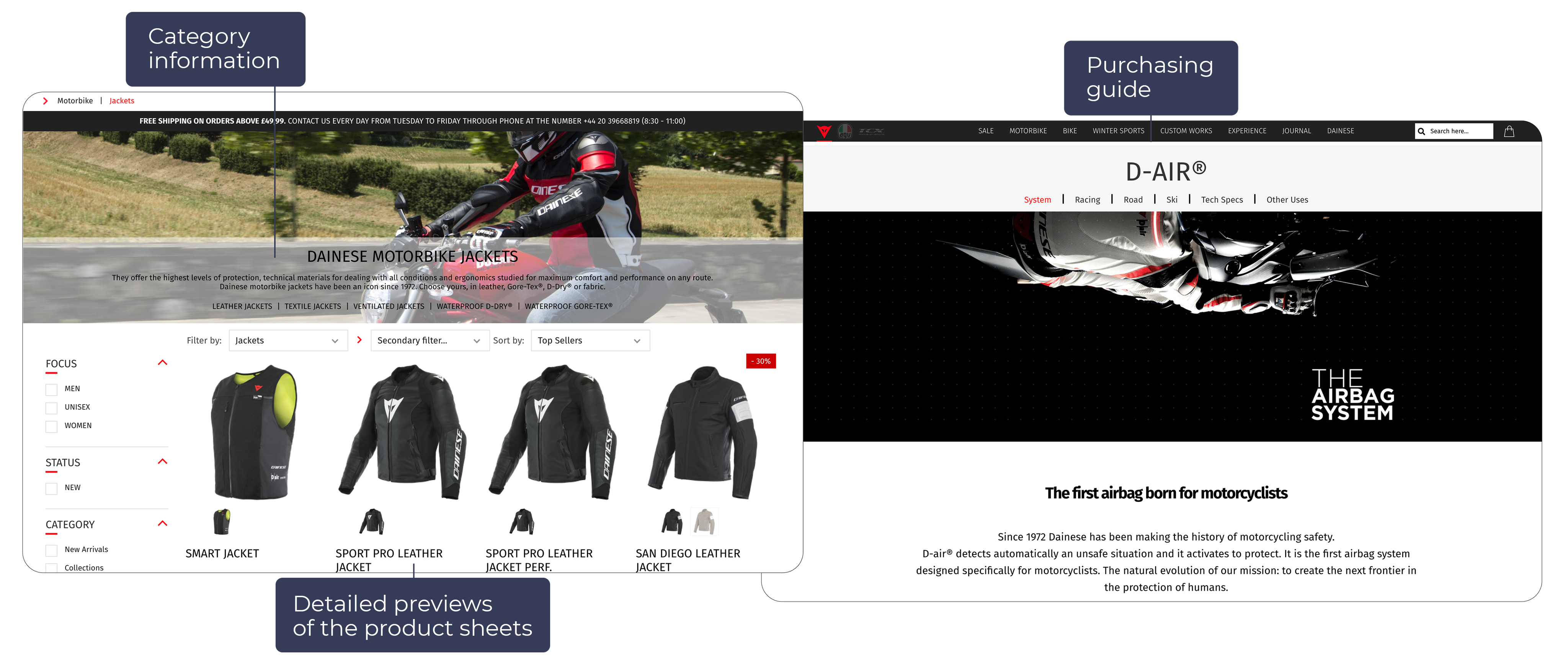 Efficient content distribution reaches beyond the streamlining of operating procedures. Real-time alignment of information and content on all channels means coherent communication at all times, a significant factor in view of the number of digital channels involved in sporting goods businesses' marketing plans.
5 European brand – relying on marketplaces isn't sustainable, 2020, Ecommerce News.
Targeting professional sportsmen and women: detailed information and personalisation
We will now take a look at an example that will be familiar to businesses that sell sporting goods for professionals. These organisations often offer a wide array of high quality products to a target of expert, very well informed, demanding consumers.
In this context, the value of the information provided has a major impact on customers' purchasing process. Obviously, compared to an organisation serving the medium market band, a producer of high-end mountain bikes has to communicate with a much greater level of detail, to convey the value of its products. Moreover, these businesses often provide their customers with the option of personalising every component of the product purchased, such as the type of fork, the colour of the frame and the finishes of the biking suit, to return to our initial example.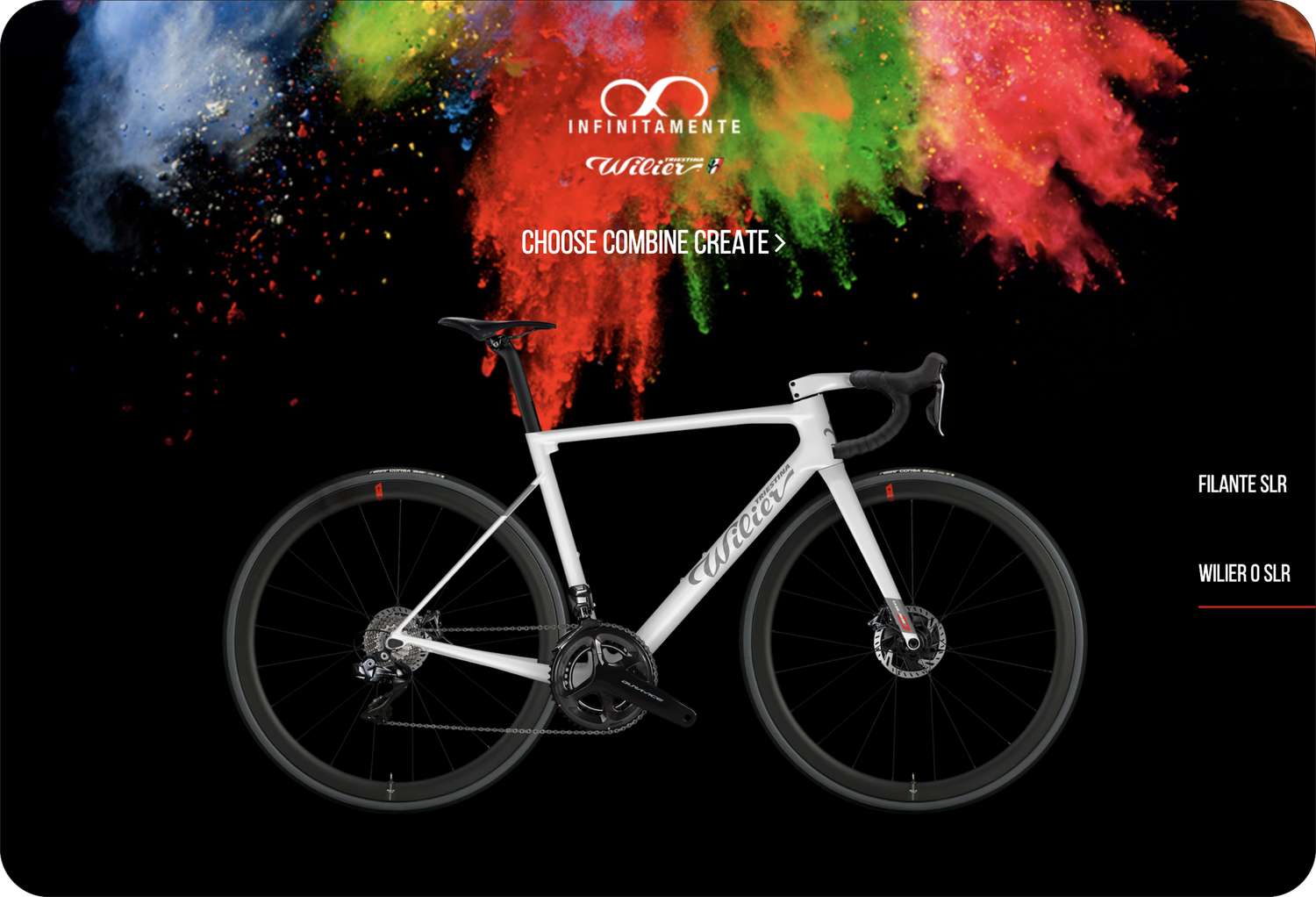 A DAM Platform like THRON supports premium sporting goods producers by providing asset management and distribution in line with the characteristics of products of all kinds, even the most complex. In these contexts, access to flexible management of the contents and information that populate product information sheets is fundamental. This is why many of our sporting goods sector customers have chosen THRON PIM, a solution that allows product information sheets to be enriched with accurate information, images and 360° videos, to create exciting, multimedia purchasing experiences, as well as for simple, well organised management and navigation of the relative product variants.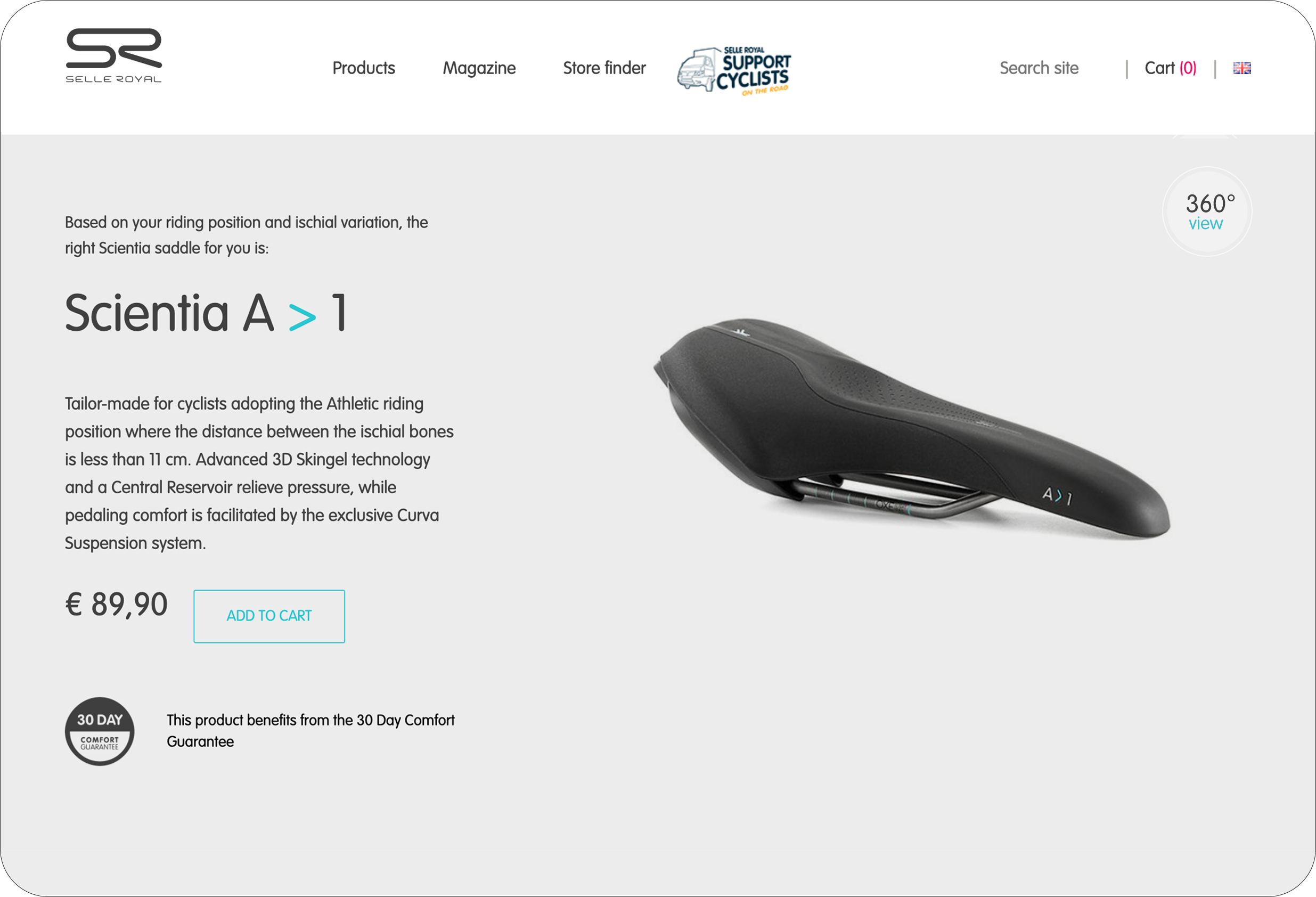 4. From B2B to B2C customers by way of PR: the importance of targeted communication
One of the golden rules of communication has always been to deliver the right message to the right target. For sporting goods businesses with a particularly complex structure, this may be a major challenge.
In most cases, these companies do not just sell their products to the end consumer but also maintain commercial relationships with a network of distributors.
Here again, a DAM platform like THRON can offer priceless support. On the one hand, by means of dedicated portals, and on the other, by using data analysis to ensure that communication is relevant to interests.
Digital portals to support B2B sales and PR activities
Many of the sporting goods brands that have chosen us use THRON BRAND PORTAL on a daily basis to dialogue with their B2B customers and share digital contents and product information with them.
Since this is one of the expansions of THRON DAM PLATFORM, here again, distribution is efficient and centralised: marketers can control the versions of the contents shared directly from the platform - just as in communication to the B2C market -, updating them with a click and setting precise access policies. Similarly, some of them also use it to create a direct digital line of contact for the exchange of information and contents with the press, and for management of PR activities.
Artificial intelligence makes communication relational
THRON DAM PLATFORM also features artificial intelligence tools that can analyse how users interact with the contents distributed, to offer each of them an experience relevant to their interests.
From this point of view, THRON renders the virtual experience more similar to a virtual one, by facilitating processes typical of traditional sales, such as upselling, and providing appropriate information to each phase of the user's purchasing funnel, a factor which becomes more and more crucial in proportion to the complexity of the products offered. Thanks to THRON's DAM PLATFORM, brands are able to overcome the more traditional, generalised communication approach and establish relational communication with their users.
Do you want to receive content like this once a month?
NORTH is the one for you.