Published on Sep 16, 2021 12:05:38 PM
The proportion of online purchases continues to increase, thanks in no small part to changes in purchasing habits caused by the pandemic. Before Covid, it was not uncommon to see consumers looking at products in bricks-and-mortar locations before then making the purchase online. As the pandemic took hold and restrictions on movement were put in place, the in-store experience largely disappeared and the entire purchase process was transferred online.
Like never before, e-commerce operators now have to pay the utmost attention to curating the content of their sites, which have become even more crucial in facilitating conversions and sales.
Jellyfish, an international digital agency, analysed the content published on the e-commerce sites of the 100 top retailers for 2020 in the US, concentrating on what it calls Performance Content. The results are contained in a report, which have become even more crucial in facilitating conversions and sales.
1. What is Performance Content?
The content which Jellyfish included within the definition of Performance Content is product descriptions, category descriptions and purchasing guides. The term Performance Content highlights how important these categories of content are in providing the user with all the information they need to complete the purchase, guiding them through the pre-sales and therefore conversion phases.
The analysis focused on the quality of:



1. Product descriptions.
These play a key role in the purchase process, in particular in the conversion phase: their role is to provide the highest possible level of detail on the product. Detailed information on its use and benefits, in particular when this is able to anticipate and answer users' questions, helps them find their bearings to make informed choices and purchases.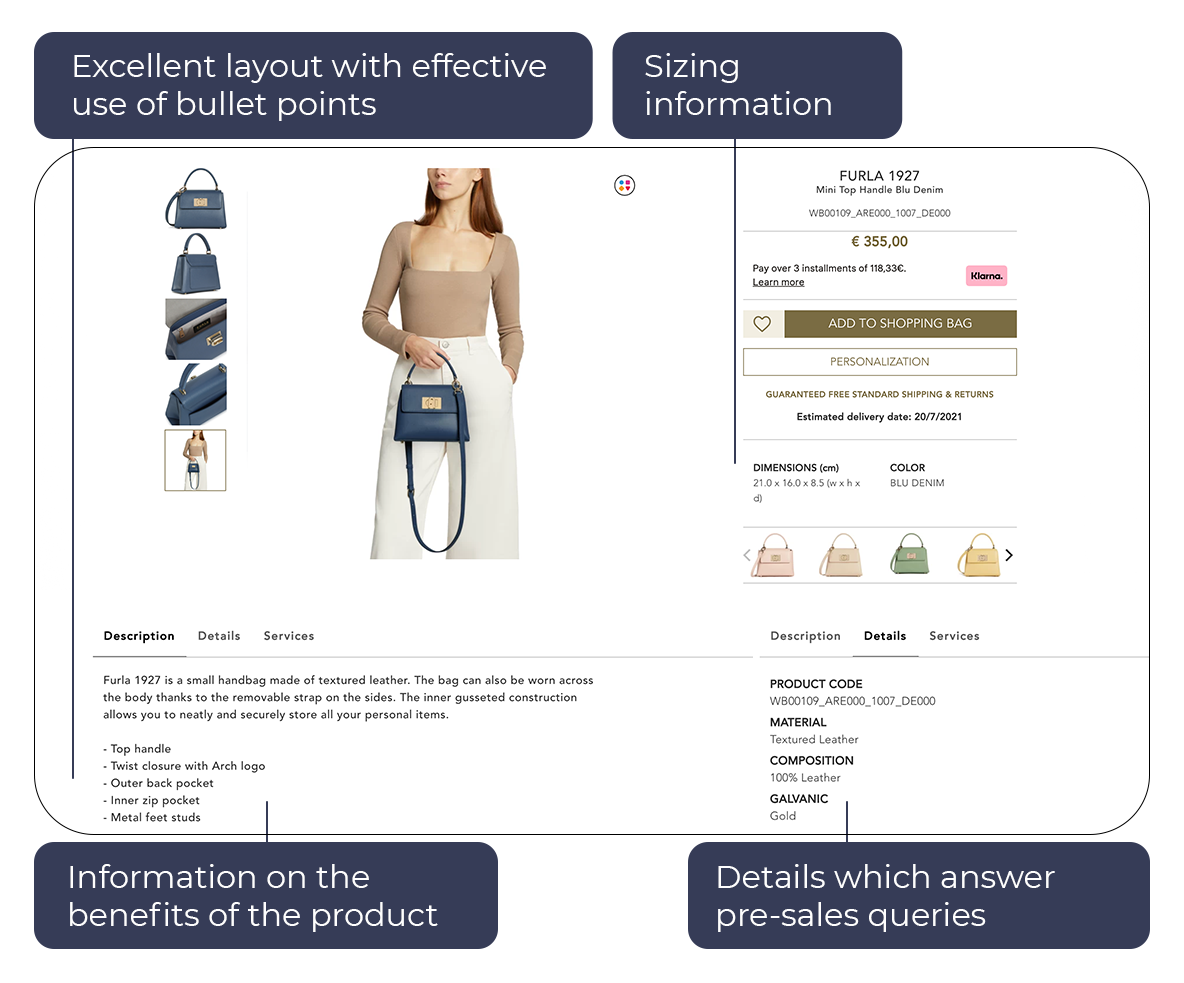 2. Category descriptions.

Content of this type can be designed both for users and for search engines. As a matter of fact, category descriptions are not just there to support customers – the reason why they must be as descriptive, original and well-written as possible – but are also key in obtaining the best organic rankings for the e-commerce site. SEO-optimised product pages help improve the positioning of the entire site on search engines, driving traffic which is likely to lead to sales.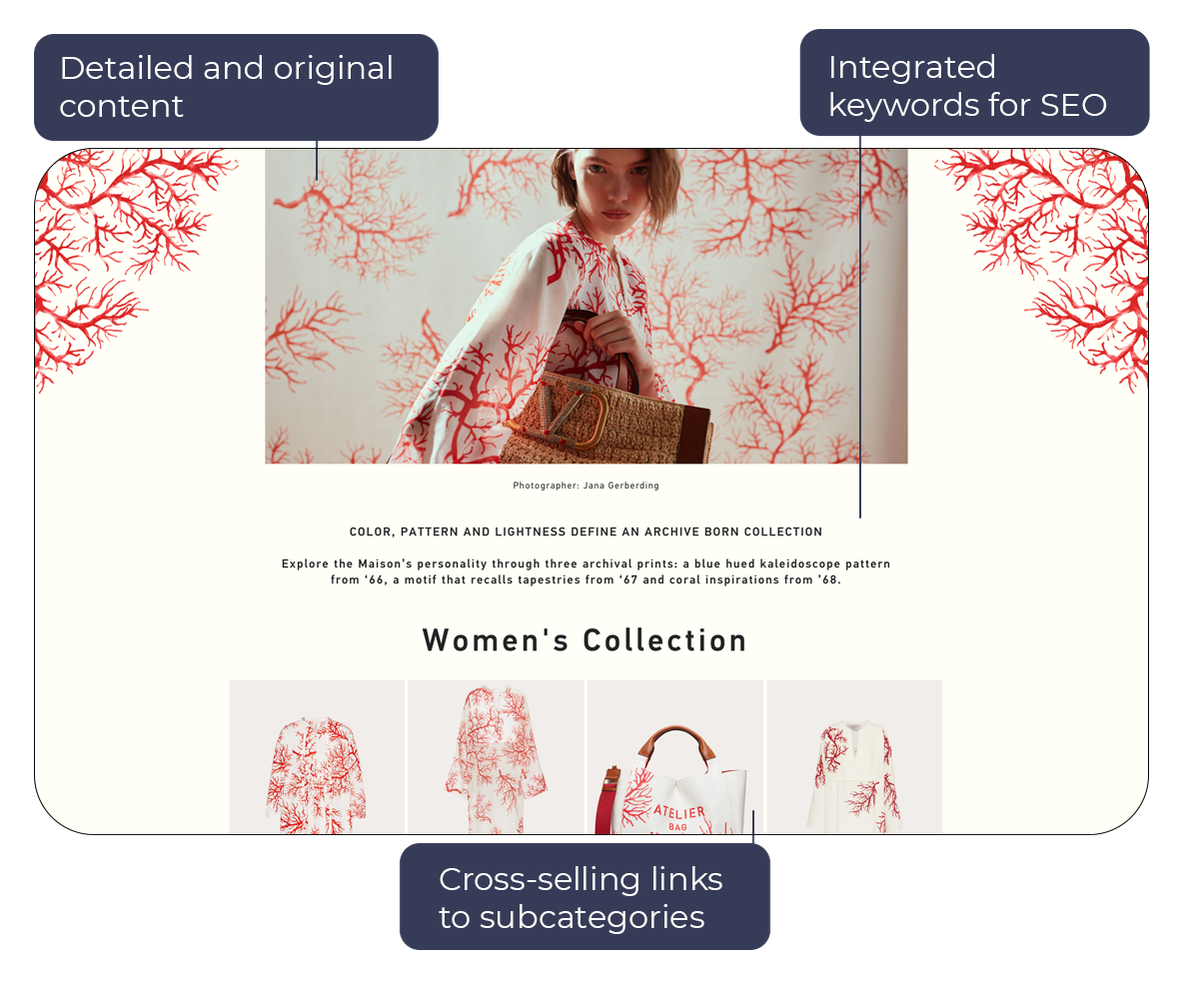 3. Purchasing guides/how to's.
In e-commerce, this type of content replaces the sales assistant, providing information, tips and advice regarding the features and benefits of the products.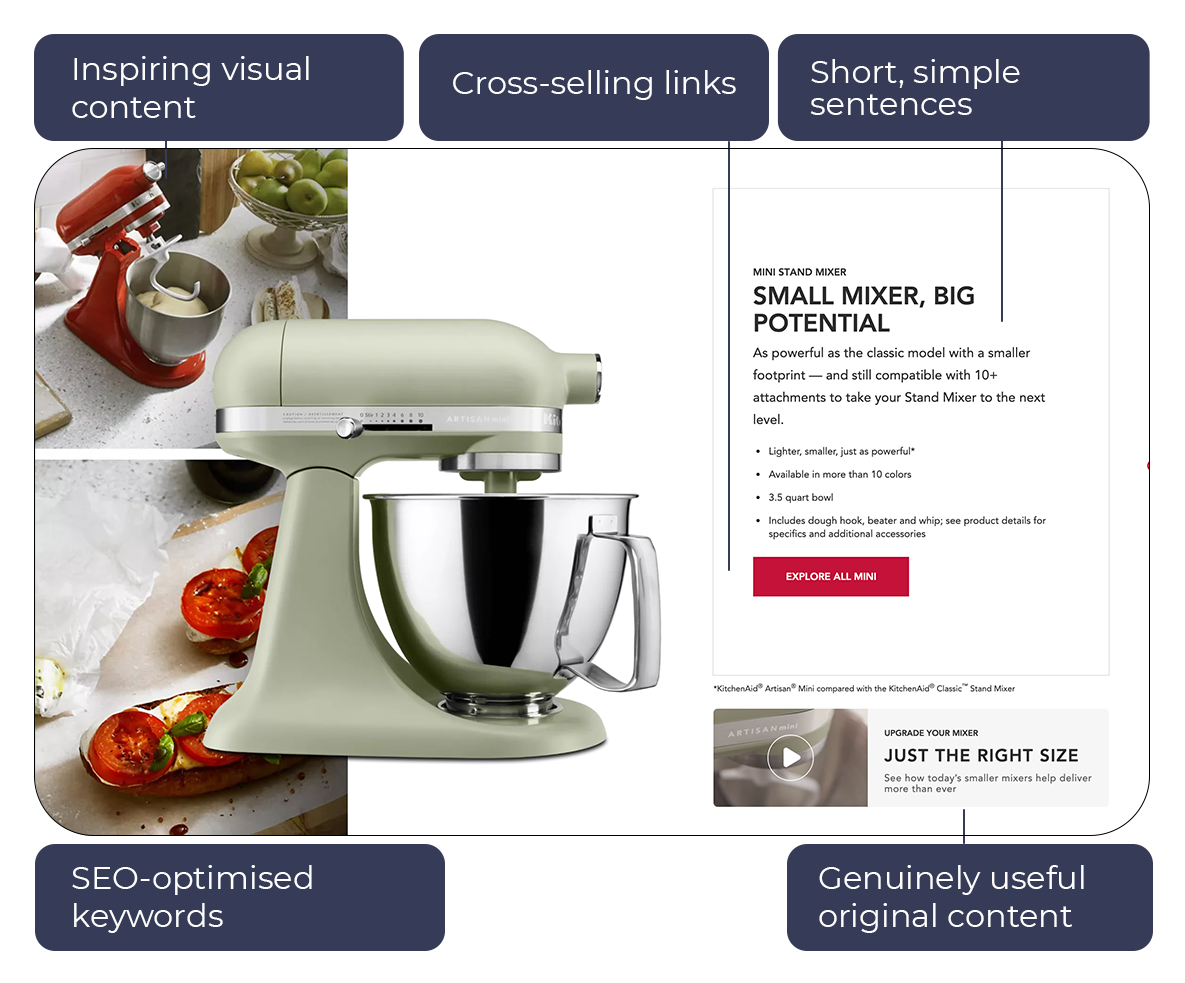 2. The results of the report
Despite the growing role of online channels in the sales experience, the report highlights that fully three companies in four do not pay sufficient attention to these types of content. In particular, among the companies analysed:

Many companies make the mistake of considering online sales channels to be equivalent to traditional ones. The product pages on the e-commerce platform often, indeed, contain the same text as the paper catalogues, something which does not take into account the requirements of those purchasing online, who cannot physically touch and inspect the product.
Focusing on these kinds of content on the e-commerce platform allows your company to:
Guarantee users the best possible purchasing experience and increase sales
Reduce return requests, and with them the effort expended by the customer service department.
The increase in sales and the reduction in costs for after-sales support are benefits which will have a positive effect on the company ROI. In a highly competitive context such as e-commerce, where the purchaser can move from one online store to another with a simple click, Performance Content represents a key lever to attract visitors and lead them to make a purchase.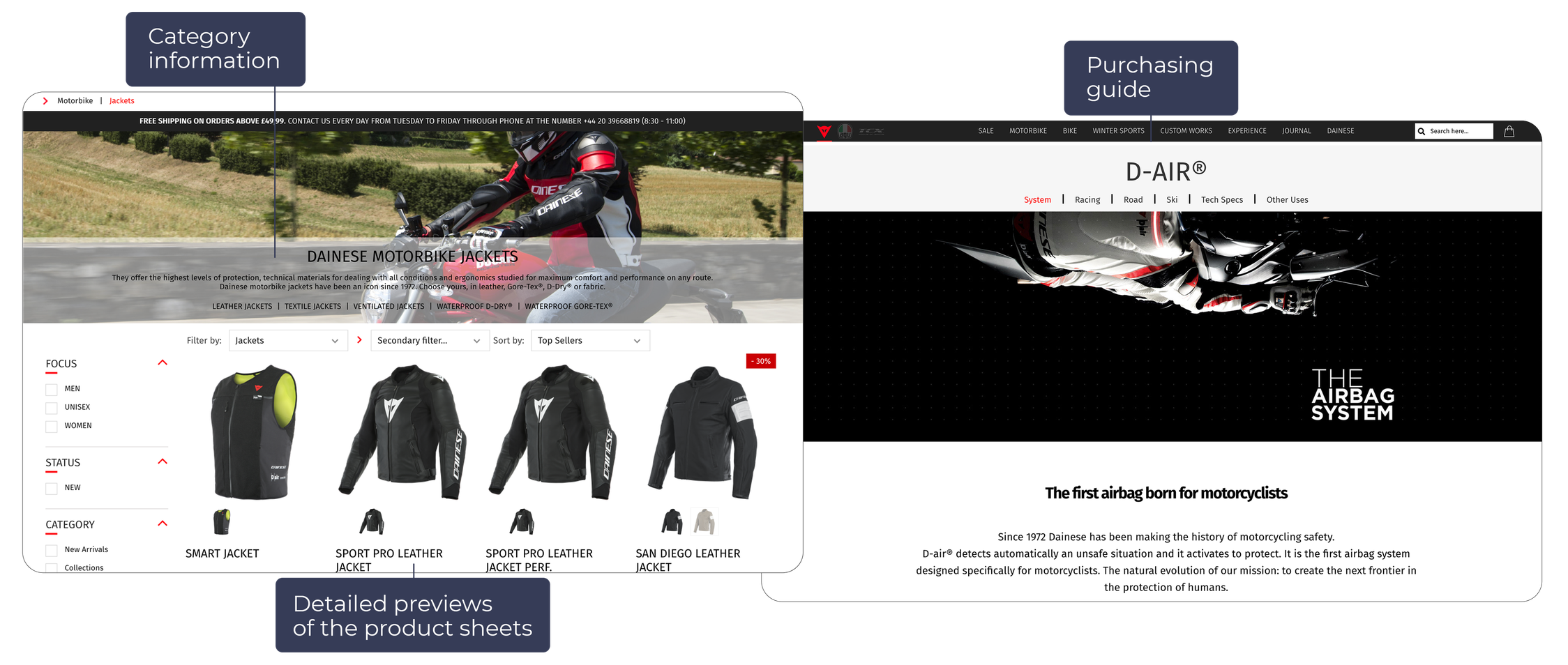 Complete and detailed product sheets, where possible also enhanced with multimedia content showing off their operation and features, will indeed help users to make purchasing decisions with greater knowledge and awareness.
3. Increasing the performance of your
e-commerce site with THRON and Performance Content
An e-commerce site packed with rich content and detailed descriptions which anticipate user demands and objections and multimedia content able to involve visitors, encourage purchases and accelerate conversions. Companies which, through awareness of their role, choose to curate their Performance Content correctly in order to increase the effectiveness of their e-commerce site will find themselves faced with significant work in terms of the time taken to organise the information, enhance their product sheets, regularly update descriptions and content, and adapt them to changes in the catalogue.
Without the correct tools, this risks translating into the following in the publication phase:
Time wasted manually entering information and content onto the e-commerce platform
Incomplete product sheets and lack of relevant information

key to guiding the user to make a purchase, effectively cancelling out all the work done up to that point.
With THRON, you can centralise the management and publication of content and information on your e-commerce site, without the need for further tools and without duplicating the information, while maintaining full control over the data shared with the public at all times.
THRON DAM PLATFORM provides native management of all types of digital content and product data, automatically creating associations between them and distributing them across your channels. What does this mean for your e-commerce platform (and for your company)?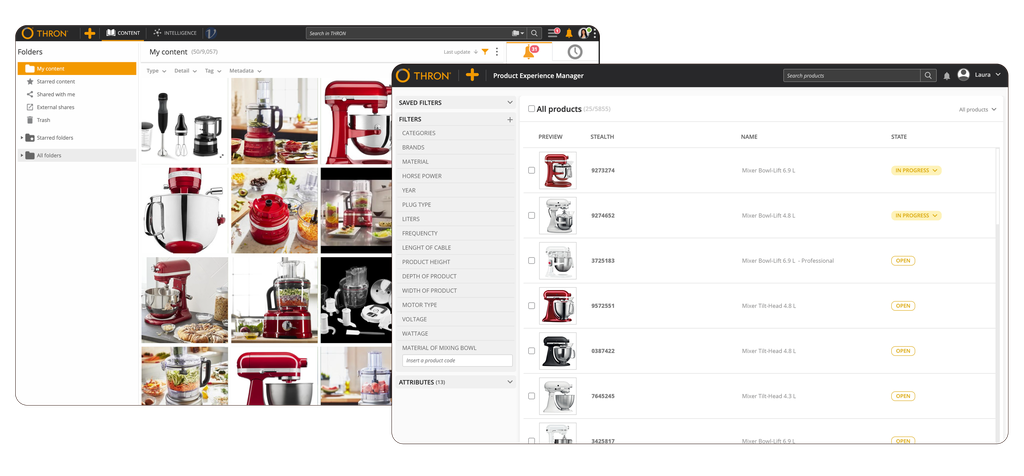 1. Manage and distribute your Performance Content simply and effectively.
The product pages of your e-commerce site will always be detailed and complete with all information required by your users.


2. Enhance the purchasing experience.
Complete your product pages with any kind of content, including multimedia (images, videos, including 360° photos) to draw in users and allow them to evaluate every single detail of your products.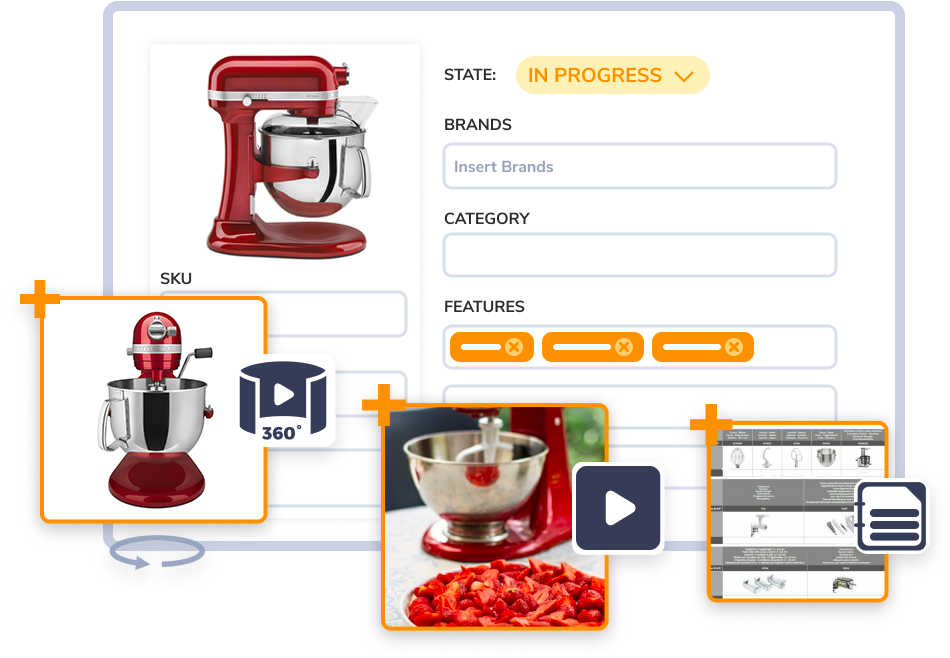 3. Save on integration costs.
Publish product sheets on your e-commerce platform directly from THRON, without fragmentation or copying content and data onto different systems.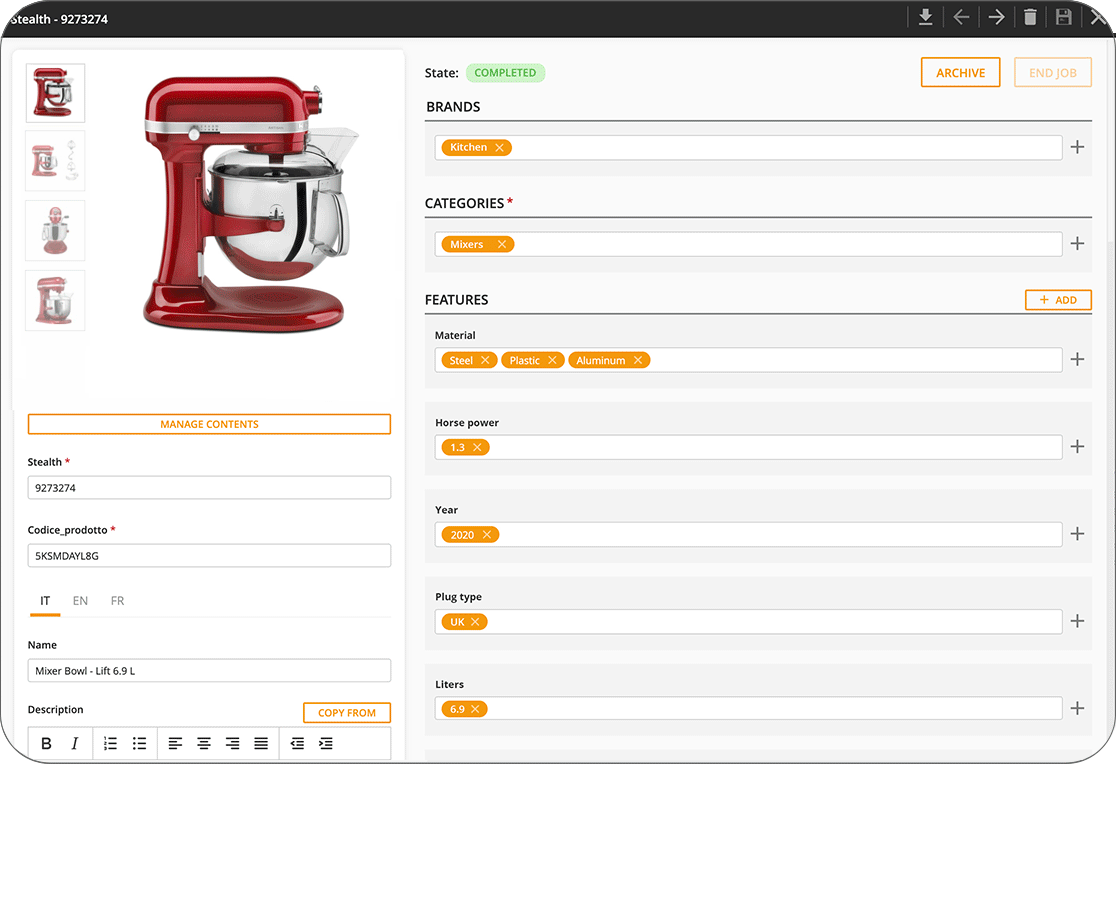 All this translates into more efficient management of your online store and significant time and cost savings. What's more, all the content distributed by THRON is optimised in order to facilitate search-engine positioning and intercept the traffic generated by people looking for information in the pre-purchase phase.
Start organising your e-commerce site's product sheets right away with THRON and revolutionise the way you manage your online shop's digital content.
Do you want to receive content like this once a month?
NORTH is the one for you.