Published on Nov 11, 2021 9:51:11 AM
One of the new features of THRON 6.6.0 is the new Tag Center: simplified navigation, interfaces and controls ensure you can manage your brand taxonomies even more efficiently and guarantee consistent product information across all your user channels.
THRON allows you to centralise all your content and product information in a single point for distribution in a coherent manner across all your channels, without duplication.
To achieve this, you must add complete, coherent taxonomies to your content: this is the only way to ensure that your tags represent the characteristics of your products and your brand identity consistently to your users online.
To enable you to do so even more efficiently, we have upgraded our Tag Center, the area for managing the tags and metadata included in your taxonomy. What's changed?
Even simpler and faster Data Quality.
The usability of the TAG section has been improved to enable you to see at a glance which tags are not yet part of your taxonomy and who has created them (other users or AI bots). This makes it easy to decide which new tags to use to enrich your content and how to include them in your brand taxonomy.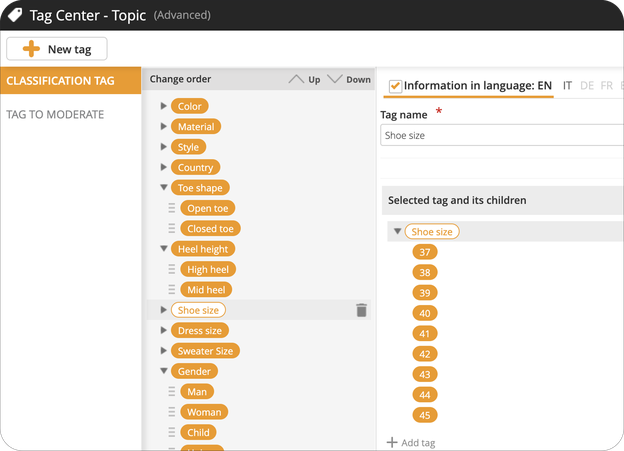 Clear interfaces for a better workflow
.
Our new interfaces make our new Tag Center easier and clearer to use. Whether you want to moderate tags for inclusion in your taxonomy, assign new user permissions or configure your AI engines, each area is now easier to navigate, making for a vastly improved workflow.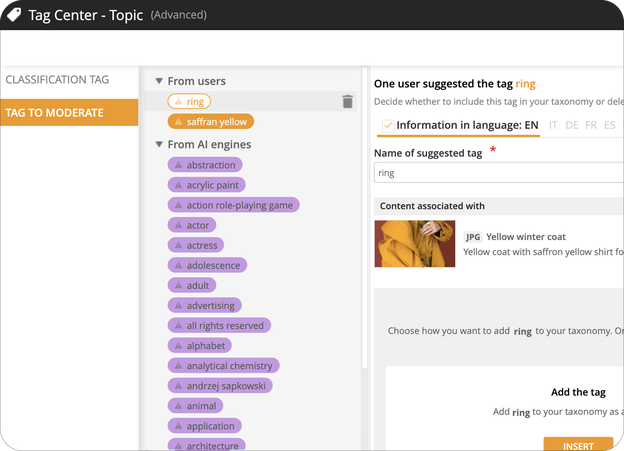 Foolproof user experience.
Sometimes when you create a new tag, you find that another one with the same meaning already exists in your taxonomy. You can delete it directly from the Tag Center – but it may already have been assigned to existing content or products. With the new Tag Center, whenever you delete a tag or metadata item, you can immediately see all its assignments and avoid losing important information.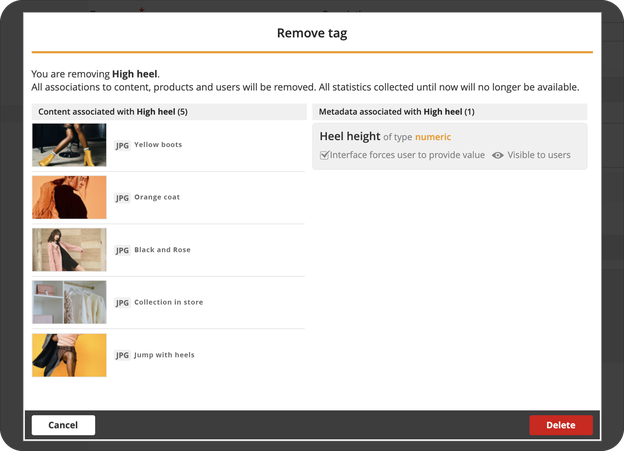 We've designed the new Tag Center to make managing your taxonomy easier and help you classify all your information accurately and to best effect. If you need to add information to your content but do not have access to the Tag Center, you can only use tags which already exist in the approved taxonomy.
This means that, when you're working in detail on your content:
Clicking on + next to the class displays the complete list of approved tags included in the taxonomy. Tags which require moderation will not be displayed: such tags must first be approved by an Administrator to ensure the taxonomy remains consistent.

If you need to add tags which are not already included in the approved taxonomy, you can add them provisionally to the content as suggestions. While they're waiting to be approved by an Administrator, you can still use them to tag other content, so that you don't have to create them anew each time, and recover them using filters and the search bar.
Take a video tour of the new Tag Center.
Read the new Tag Center user guide on our Help portal.
Discover the other new features of THRON 6.6.0 in our release notes.
Do you want to know more about the new Tag Center?
Ask for a free demo.