Published on Mar 24, 2021 5:55:15 PM
If you work with content and products in your day-to-day operations, you surely know that speed and accuracy in retrieving them within your systems makes all the difference.

At THRON, we work towards this every day, to continue to ensure that you can:
find the content you're looking for more easily and quickly

, thanks to searches and filtering that are increasingly precise when it comes to the characteristics of your content and associated products,

live a simple and intuitive experience

on our platform.
The ability to star favorite content and folders, as well as the ability to sort your content in alphabetical order, are two recently added features that had precisely this goal. With this in mind, we have added a new brick to the evolution path of the THRON DAM Platform.
Starting today, you can filter in an even more precise way the contents stored on the platform, in order to obtain a more precise selection, according to what you are looking for. You can filter your contents by any kind of metadata.
By indicating an identifier, you will immediately see the type of associated metadata and you can specify its value. In this way, THRON will show you only the contents that respect both the type and the value of the metadata indicated. In addition, you can specify whether the contents should contain all or at least one of the selected metadata. To use this new level of filtering, just click on the option "Metadata" that we have added to the filter bar, right next to the label "Tag". In addition, you can continue to filter your content by associated products, by clicking on "Products" and entering one or more SKUs.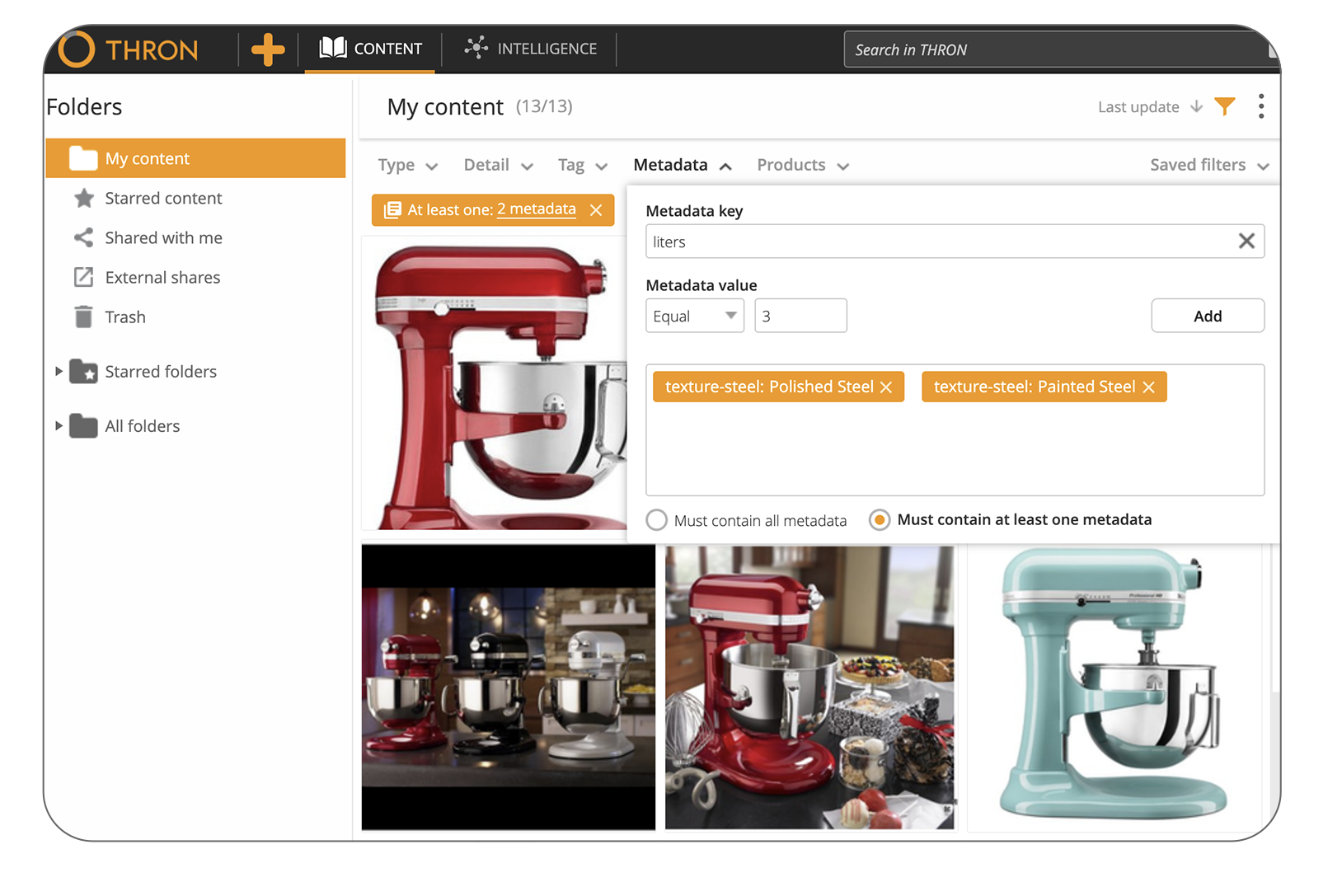 To recap, your THRON Library allows you to filter the contents present on the platform – as long as they are visible to you – by:
Content type

- images, video, audio, playlist, documents, url, pagelet, with the possibility to specify which extension/s to be considered

Content details

- owner, author, creation date and last modified date

Tags

- with the possibility of indicating whether the searched content must contain all tags, at least one, or none

Metadata

, with the possibility of using any type of metadata present in the platform as a filter

Products associated

to the content, by inserting a list of SKUs.
Plus, you'll be able to save your filter combinations on content so you can reuse them in future searches.
Watch the video to learn how THRON filters will help you find your content even faster.
Do you want to receive content like this once a month?
NORTH is the one for you.