Published on Feb 10, 2022 10:22:00 AM
DAM – alias Digital Asset Management – platforms are becoming increasingly central to marketing departments' digital investments. In this article, we aim to find out why and, above all, to analyse the characteristics of (the best) DAM platforms.
Index:
1. Defining a DAM platform in a very few words
DAM is the acronym of Digital Asset Management. It is a kind of software used by businesses to create, organise and distribute digital assets across all communication channels.
However, for a clear understanding of the worth of a tool like a DAM platform, we need to explain another concept: that of the digital asset.
A "digital asset" is a content and the information that accompanies it.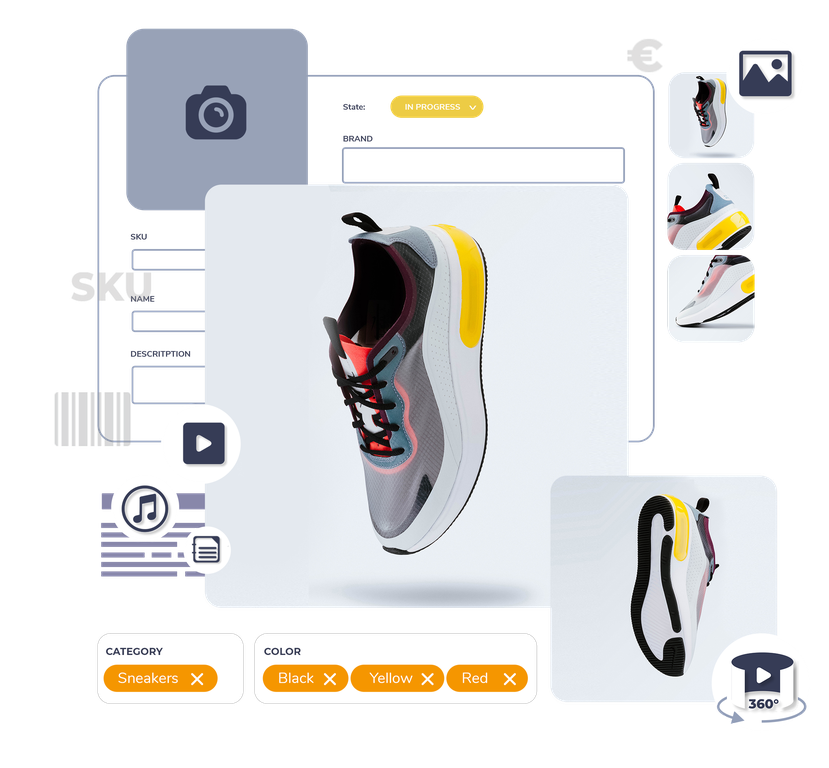 For example, a typical digital asset of a clothing company is an image of a shoe accompanied by various types of information, such as tags that help to classify the content, SKU, product characteristics and attributes, information correlated to the type of content (such as, in the case of an image of a product, the type of view or information about the photograph, such as light and exposure).
The contents managed by the best DAM Platform include much more than just images. As well as traditional photos, they manage 360° degree images, videos, audios and documents, accompanied by tags, metadata, translations and product information. Assets distributed on all the brand's communication channels.
2. A simple explanation of the rapid rise of DAM platforms
So we are talking about contents and channels. The recent explosion of digital marketing has generated a real boom in the production of the former, destined to populate homepages, landing pages, noticeboards, mailboxes and any other corporate touchpoint.
A content can reinforce engagement with a business's audience, grow users' loyalty by populating newsletter subscription lists, and influence the shopping carts of online shops. In other words, a digital asset can enable the achievement of marketing and sales targets.
Therefore, each content must be considered not as the output of an operating process but as a strategic element on all the (very many!) communication channels available. Every day, brands mix words, colours, slogans and graphics to create dozens and dozens of new contents for a multitude of different channels; however, the continual production and distribution of digital assets generates a complexity impossible to manage without technology.
In general, the budget share which marketing allocates to digital asset management technologies is growing fast. In fact, according to Gartner1, although the share of companies' budgets allocated to marketing fell compared to previous years, in 2021 almost a third of marketing teams' resources were invested in technology (in 2016 it was just 12%).
Within the galaxy of MarTech (Marketing Technology) solutions, the results of digital asset management systems are particularly impressive. With an annual growth rate of 18%, analysts2 forecast that by the end of 2022 the global DAM market will reach a turnover of over 5.6 billion dollars (it was 2.44 in 2017).

1 The State of Marketing Budgets, 2021, Gartner.
2 Digital Asset Management market insights by emerging trends, 2021, SDKI.


3. Not all DAM platforms offer an all-inclusive approach
This growth is very probably destined to continue. Because communication is becoming more and more digital, and can only be adequately supported with tools that enable effective management of the entire lifecycle of contents and the information that accompanies them.
Come tutti i mercati IT, anche quello del DAM è segmentato e prevede soluzioni con livelli di qualità e performance che possono essere anche molto differenti tra loro. Only the best digital asset management software platforms support brands throughout contents' lifecycle, which consists of five phases:
creation

approval

organisation

distribuzione

analysis.
To appreciate the importance of a tool like DAM, it is essential to understand the scope and dynamics of each one of them.
Creation
In 2022, over a quarter of the marketing budget will be allocated to the creation of new contents3.
Obviously, the effective management of this process is crucial for the success of this area.
From this point of view, a DAM platform can relieve professionals like visual and graphic designers of manual tasks. In fact, often these solutions can make their job quicker and easier thanks to integrations with creative suites and, in more general terms, through applications able to integrate the DAM platform with the tools already in use for the creation and editing of contents. Connectors and integrations of this kind are able to cut times spent skipping between apps and, above all, to avoid the generation of multiple copies of the same content. What's more, if complete with speech recognition, functions, a DAM platform can automatically generate the subtitles of videos, also shortening the production times of this type of content.
A Digital Asset Management solution is also a useful aid for improving the efficiency of the processes for management of outsourced contents. A DAM platform can also be beneficial for product photoshoots. If complete with the right functions, a solution of this kind can centralise the collection of product photographs by all players external to the company involved in the project, including both photographers - during creation - and graphic designers and agencies handling post-production.
Approval
Videos, images, infographics, documents. The virtual desks of everyone working in marketing are thronged with many, very diverse contents, and overseeing their approval flow can be a major undertaking.
51% of organisations which took part in the Tonkean survey4 defined their company workflow automation process as mature. In particular, there are many tools which support marketing process digitalisation, intended to facilitate very different activities.
A DAM platform's functions for managing the flows for approval of digital contents are the natural completion of those which support their creation. In fact, although economics, and thus also marketing, are social sciences, it is scientifically proven that any content created is followed by versions and updates.
Joking apart, a DAM platform with workflow automation functions enables users to to digitally design workflows, manage approvals and revisions with a click and avoid the uncontrolled proliferation of different versions and copies of a single file. To put it very briefly, it simultaneously enables both collaboration between colleagues and monitoring of the progress of activities.
Organisation
Once created and approved, a content must be carefully stored to enable agile access. According to McKinsey5, every knowledge worker spends 19% of their time looking for and collecting the information and contents they need.
All DAM platforms enable the tidy storage of digital assets, but some of them make the asset filing and organisation process more efficient.
For example, using artificial intelligence functions, some DAM platforms can tag documents, images and videos automatically, extracting the main concepts of each content and transforming them into tags by means of semantic analysis functions.
Furthermore, the most functionally advanced DAM Platform do not manage contents alone, but also allow the management of product information within the same tool. Thanks to advanced automatic tagging functions, first-in-class DAM platforms allow automatic pairing of products' characteristics and attributes to the contents which represent them, streamlining and maximising the performances of the downstream steps such as distribution, purchase experience creation and insight collection.
Distribution
The interactive communication channels available to brands for the digital assets addressed to their audience are extremely varied. Social media, website, e-commerce, marketplace, app and email marketing are just some of the essential channels requiring management.
In Italy alone, this is quite a complex undertaking. Here, for example, on average each person has a personal account on eight social media channels6, 80% of users make online purchases from various sources7 and everyone receives dozens of marketing emails every day.
Content is king, distribution is queen. In other words, creating good contents is necessary but not sufficient for the success of a content strategy. For a brand, this means that to get themselves noticed amongst those of its competitors, its contents must be distributed widely, coherently and immediately on every channel. The best DAM platforms pay great attention to this phase, because although frequently overlooked by marketers, it often gives rise to inefficiency.
In fact, in the absence of a suitable digital asset distribution strategy, whenever a content is produced or updated, the people who manage the various communication channels would have to waste time copying it into every single channel, generating duplications and running the risk of using the wrong version.
What companies need to create engaging, omnichannel user experiences while maximising internal productivity and maintaining content governance is a single vantage point from which they can create, approval and organise contents, keeping all their distribution channels updated in real time.
Analysis
72% of businesses use marketing reporting tools mainly, third party solutions such as Google Analytics and Hotjar8. This is certainly a good choice, in view of these tools' reliability, but it does have its limitations.
First and foremost, the data supplied are quantitative, based on the user's browsing behaviour. Secondly, it must be underlined that the data are the property of the provider and not of the business.
The market offers several DAM platforms that use artificial intelligence to shift the focus from traffic to contents. When they distribute digital assets, some solutions track the ways in which users interact with contents, profiling their interests and offering them a personalised experience, with contents tailored to their interests.
What's more, by directing these data into Customer Relationship Management systems, it is possible to create 1 to 1 communication with users, making marketing activities such as DEM (Direct E-mail Marketing) and nurturing more effective.
Moreover, in general these solutions allow contents' performance to be monitored, to find out which types and topics work best. These valuable insights fuel a virtuous circle, because they allow measurement of the ROI of the content strategy and provide inputs on how to improve new content creation activities.
3 Not another State of Marketing Report, 2021, Hubspot.
4 Business Process Automation Challenges and Priorities, 2021, Tonkean.
5 The social economy: Unlocking value and productivity through social technologies, 2012, McKinsey.
6 Digital2021 Italy,, 2021, Hootsuite.
7 Digital2021 Italy, 2021, Hootsuite.
8 Not another State of Marketing Report, 2021, HubSpot.
4. DAM to support brand and business strategies
To conclude, we will once again answer the question we asked at the start of the article: why has the DAM market more than doubled in recent years? Digital Asset Management solutions allow management of the various phases of a digital asset's lifecycle, from creation to organisation, improving internal and external collaboration. By choosing the right technology, brands can extend centralised management of contents and information to the distribution and data gathering steps, maximising the strategic value of their digital assets and guaranteeing themselves content governance on all channels.
Every day, here at THRON we help the world's top brands to manage and distribute their digital assets. As the foundation for our approach, we strongly believe that a DAM platform must provide businesses with genuine support. Therefore, at THRON every content creation and management activity is oriented towards duplication-free distribution on the communication channels. We thus move beyond the conventional concept of DAM as a digital contents database to embrace that of DAM 3.0, a solution that supports marketers in the management of digital assets' entire lifecycle, from creation to performance analysis.
In particular, THRON has two goals, as clear as they are challenging. We want our customers to be able to gain market shares faster and protect their brand's identity, by offering constantly personalised, engaging user experiences because, in our view, it is here that the future of marketing lies.