Published on Apr 29, 2021 12:31:00 PM
After reading this article, you will know how to:
>

Update your e-commerce platform automatically whenever you need to
>

Ensure that the online catalogue is always complete, correct and full of details
>

Cut the costs of integration and synchronisation between systems
If you are responsible for your company's e-commerce platform, or are responsible for all-round product communication, there is just one way to turn users into loyal customers: create an engaging experience which is content-rich, complete and consistent across all your channels.
This experience almost always starts from your e-commerce, your modern-day shop window, but in reality, it is only the final step of a process of content creation made up of different phases: managing a photoshoot, organising the product catalogue, association of information, approval and publication.
Many companies rely on different tools for each of these phases, resulting in fragmentation of information and numerous risks for the business and the brand.
If you want to avoid all of this, keep on reading.
Contents of the article:
1. Fragmentation of information, from the photoshoot to the e-commerce site

Have you ever played Chinese whispers? If you have, you'll know that the final message is always different from what was said at the beginning. If you use a different system for each phase of the content creation process, the same thing can happen.
Making different systems communicate can cost up to 10% of the marketing budget, according to research from Forrester Consulting. Don't you think this percentage would be better invested in activities which generate value for your brand?
And then there's the problem of fragmentation of information.
Fragmentation of information affects:
Your business: if you lose information, you risk having an incomplete catalogue which can lead to users not completing their purchases
Your brand: inconsistent communication leads to a loss of consistency and a weakened brand identity
Your operations: without a fluid working process, it becomes ever-more difficult to publish and update the catalogue quickly.
How can this problem be solved?
2. Managing digital assets without fragmentation of information with THRON DAM PLATFORM
The stumbling block to get past is fragmentation of information, which necessitates the use of different systems that must be kept synchronised by transferring and copying content and information between one step and the next of the content creation process.
Unlike other tools, which need to be integrated with the proprietary systems, THRON DAM PLATFORM distributes the digital assets directly to any final channel and context.
As such:
You eliminate duplicates, as you do not have to create local copies

Your catalogue is updated automatically

increasing productivity

You protect your company's know-how and brand image

, as your content will always be consistent and correct

You enjoy reduced integration costs

, as there is no system to integrate.
3. From the photoshoot to the e-commerce site: your product catalogue in three steps thanks to THRON DAM PLATFORM and its e-commerce connectors



1. Create your catalogue. Thanks to THRON DAM PLATFORM, you can manage any type of content and product data from a single platform and create associations automatically: this makes creation of your catalogue much, much faster.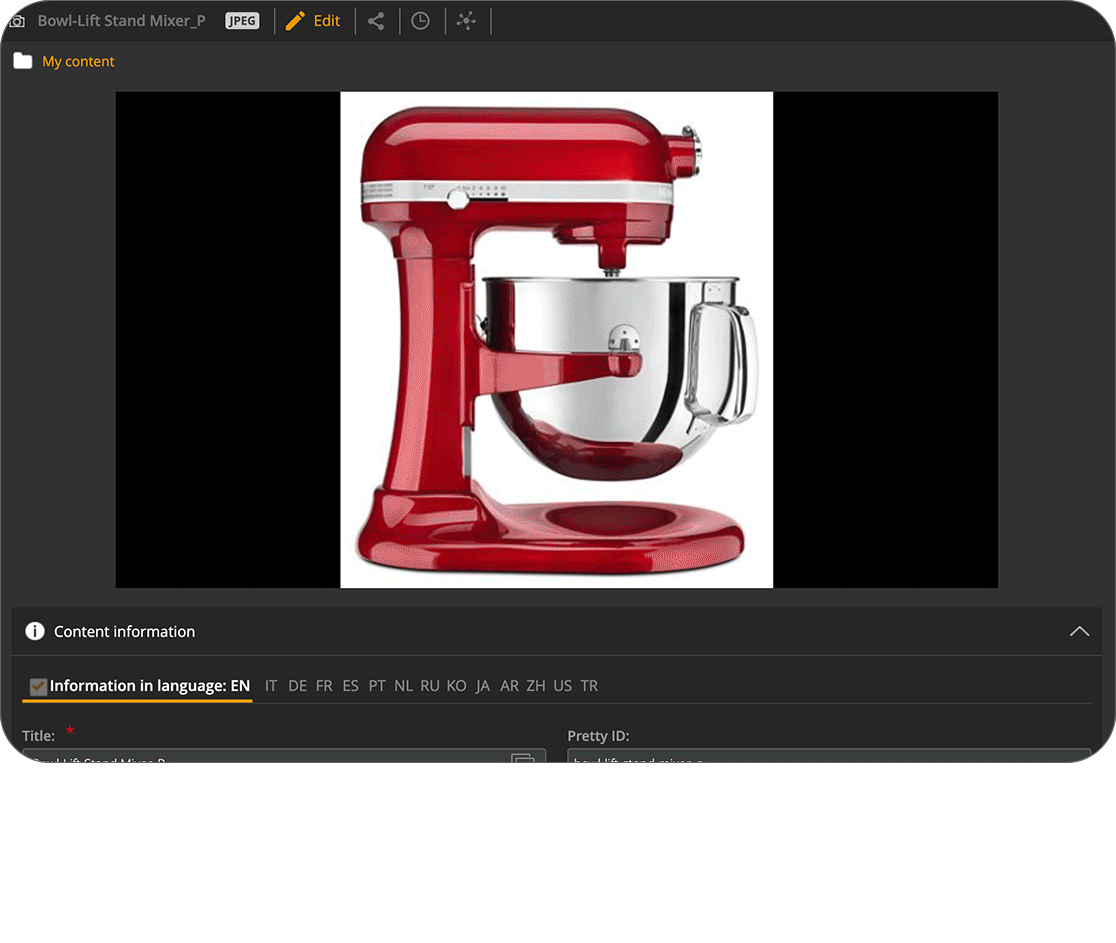 2. Organise your product sheets

. At this point you have at your disposal an interface from which you can manage product sheet creation in an orderly and organised manner. THRON PIM, indeed, automates the product sheet creation and approval process, helping you to quickly create a detailed and complete catalogue which is ready for the e-commerce site.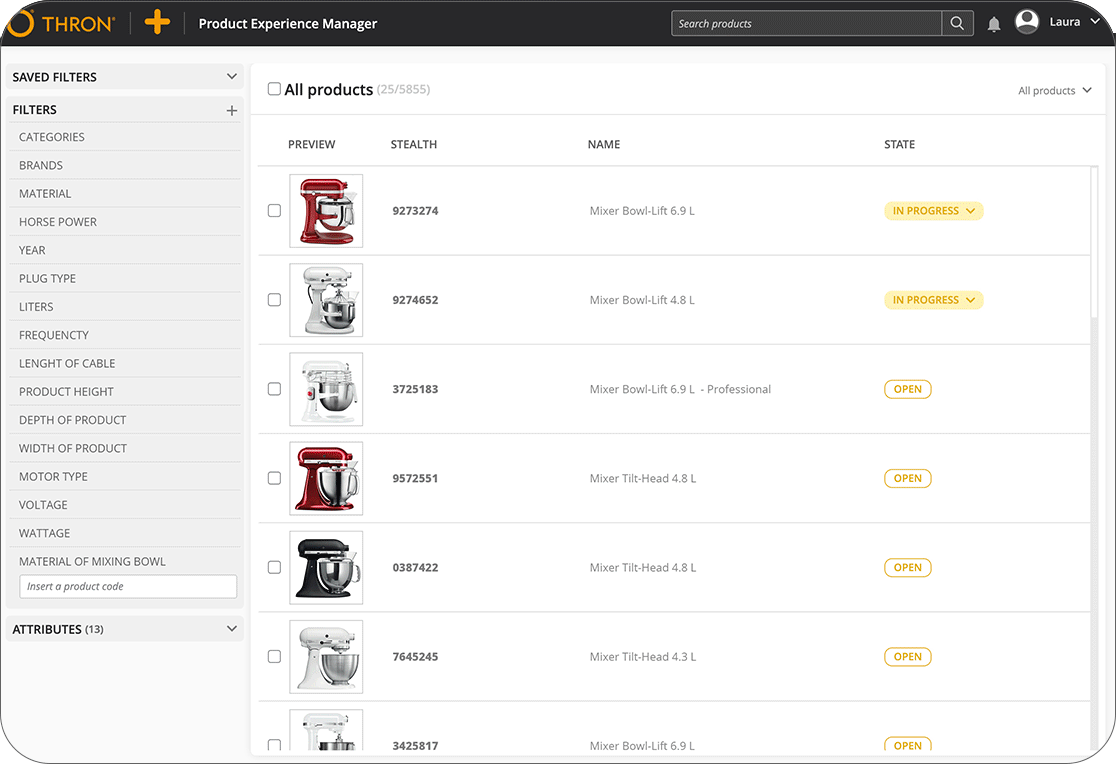 If you want to make the process even faster, discover
THRON PIM.
3. Publish your e-commerce catalogue

. Once the catalogue is ready, you can publish it on your e-commerce site and update it automatically with THRON's native CONNECTORS, which will publish only the completed and approved product sheets.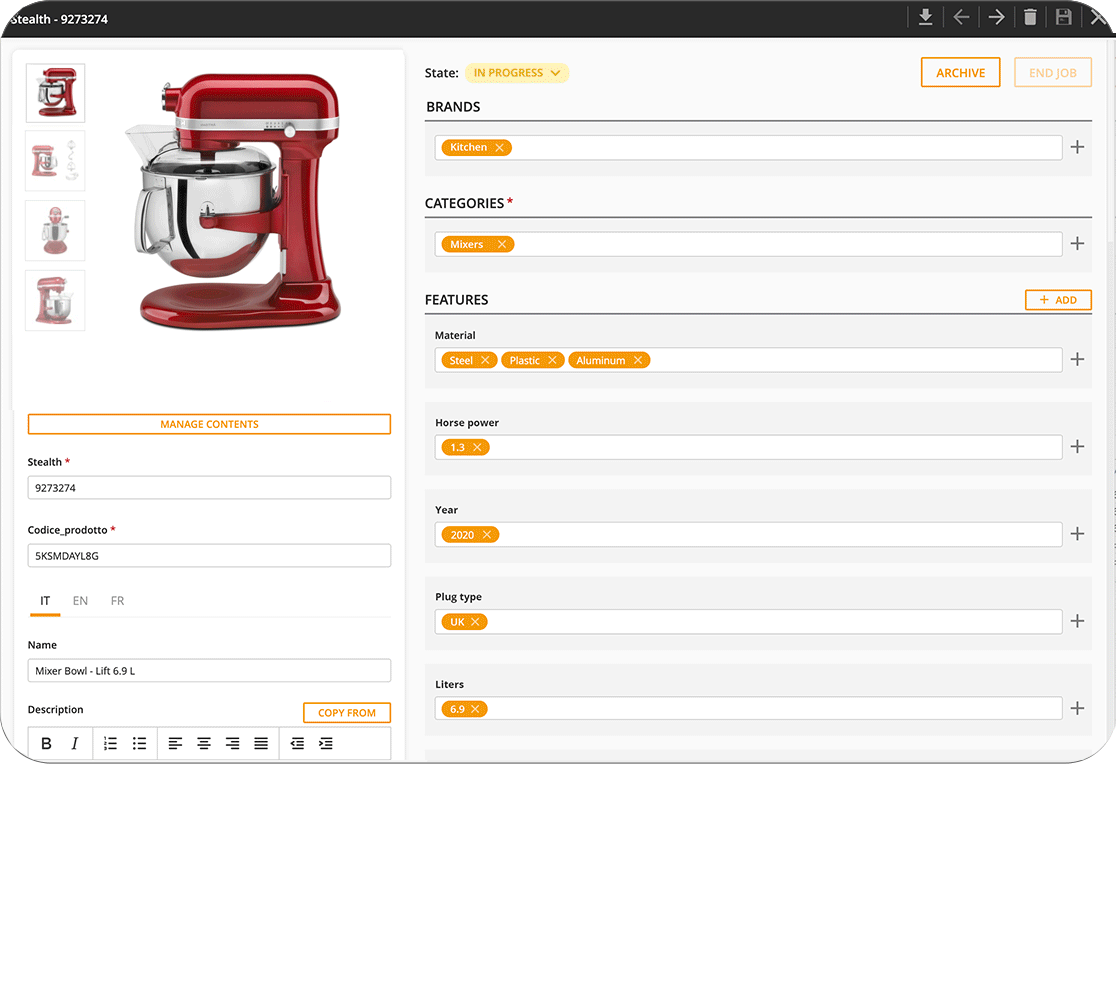 4. The native THRON CONNECTORS for your e-commerce platform
Thanks to the direct distribution from THRON to your e-commerce platform, the connectors update the catalogue automatically, without duplicates or errors, ensuring that all information is consistent. You will not need to keep multiple versions of the catalogue synchronised and you will be able to build a complete, rich multimedia product experience.
Let's see how.
Create rich and effective product experiences. THRON manages any type of digital asset: thanks also to our Universal Player, you can publish any type of content, even those that your e-commerce platform does not support, such as 360° product photos, playlists and manuals, as well as photos and videos, of course.
Edit and adapt your content in real time. With THRON you can edit images in real time on the basis of the usage contexts, without creating new copies.
For example, you can:
Resize images in real time. Thanks to automatic cropping, THRON will publish the image in the size you need, while keeping the focus on the main subject of the image or on the product.
Change the background colour of product images. Just upload the image to THRON in png format with a transparent background: in the publication phase, you will be able to choose another background colour.
Adjust the image settings. Edit image settings such as brightness, contrast and sharpness in real time, before publication on the e-commerce site.
Our connectors are certified by the main e-commerce service providers, such as Salesforce and Magento.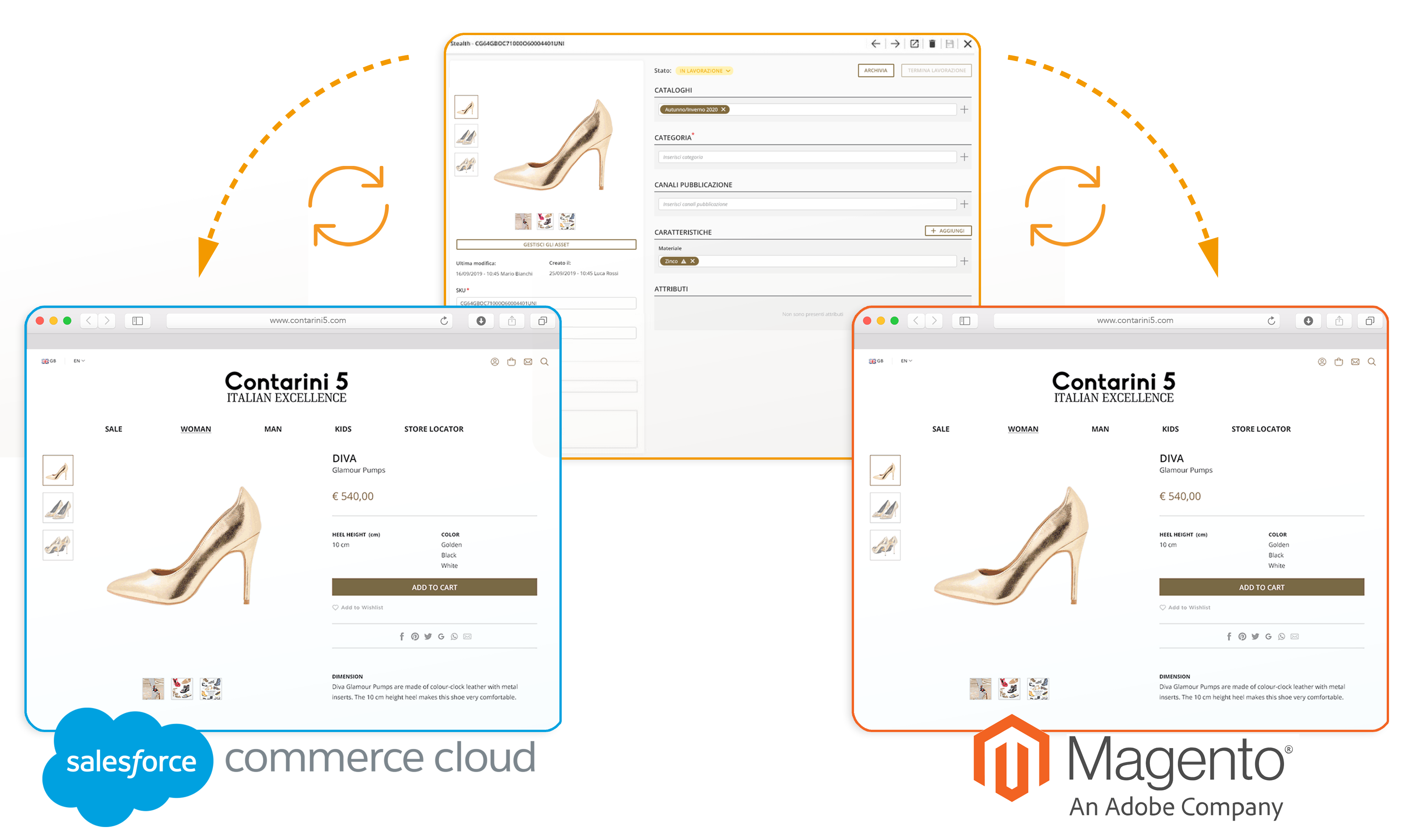 Discover THRON's e-commerce CONNECTORS available on the dedicated page; find the connector you need and go to our Marketplace. There you can follow the instructions to download the plug-in and configure your connector.
During configuration, you will be able to set the import timing and thus automate the uploading of your catalogue. Every time you update it in THRON – every time you create a new product sheet, add a piece of content or edit a piece of information – the e-commerce catalogue will be updated automatically.
Haven't found the connector you need? Maybe we're working on it. Contact one of our Success Managers to receive updates and recommendations on other methods to publish your catalogue or other content and personalise your front end, such as our APIs or THRON JS components, for example.
We know all too well that your job isn't over with the publication of the catalogue, however. Thanks to our Content Analytics and Content Intelligence, Intelligence tools, THRON can also help you measure the performance of the content you publish, gather insights on your users, plan your strategies better, and create (and suggest) personalised content for your users on the basis of what they have viewed or purchased.
Do you want to know more about THRON's e-commerce CONNECTORS?
Ask for a free demo.