Published on Mar 10, 2022 2:45:00 PM
The Italian home decor industry is worth 21 billion euros, and over half of this is generated by exports1. Consumers from France, the USA, Germany, the UK and Switzerland are amongst the keenest purchasers of Italian design. After the understandable slump in 2020, sales in the industry recovered during 20212.
During the last few years, the home has regained a large degree of centrality. Remote working and people's new lifestyles demand interiors that successfully combine the professional dimension with relaxation and pleasure. In this context, furniture and fittings are required to respond to consumers' new needs.
The latest trends focus on convenience, elegance and technology, with a minimalist style and a strong awareness of sustainability. However, the latest innovations in the sector extend beyond colours, materials and design.
In fact, consumers the world over are reshaping the rooms of their homes by means of a very different buyer journey from in the past, with a combination of retail and digital channels.
Home decor brands are increasingly exploiting digital tools to support traditional sales and compete in new markets. But above all, to respond to their customers' demands and expectations.

Indice:
1. Home decor is turning more and more digital
In 2021 e-commerce sales of home decor in Italy soared to 3.3 billion euros, almost twice the 2019 figure3. In France, one home decor purchase in four is made online4.
Of the categories of consumer goods with the highest rate of online purchases in Europe, the sector is second only to fashion. There are also similar trends overseas, in both the USA and China.
For an industry in which in-store sales have always predominated, this is a strongly innovative approach. We are witnessing a real revolution in home decor marketing, which is increasingly taking place on web and e-commerce sites and on social media, as well as in retail stores.
Consumers are showing a preference for an omnichannel approach for information-gathering and purchase. Product images, videos and information promote new home decor ideas and purchase guidance. For home decor brands, physical showrooms and sales staff are only part of the broad array of touchpoints with their customers, who use digital tools in every phase of their buyer journey.
Basically, communication is acquiring new forms and the focus is shifting to contents, essential for enthusing and dialoguing with customers, and also for influencing and collaborating with dealers and external partners.
2. Home decor marketing is... getting a make-over
At the end of 2021 Pantone named Very Peri as its colour of the year. It defined this periwinkle blue as "ambassador of a new perspective"5, symbolising this period's many transitions.
As we have already mentioned, these transitions are also reflected in brands' more and more digital communication styles.
So, while periwinkle blue is the colour of the year, digital contents are the key to the present and future of home decor brands' communication.
To ensure the efficacy of the digital dialogue their customers are demanding, home decor brands have to take great care over content. In fact, new consumption trends require content to be an ambassador for the brand and its products on all the communication channels where it is distributed.
For this to be achieved effectively, the entire content life cycle must be managed, taking great care of every one of its phases, which are:
content creation and management
the enrichment of contents with product information
the distribution of assets on the various channels and to the various stakeholders
the analysis of contents' performance.
Each of these phases has crucial strategic importance and may open the doors to major potential benefits, but also involves a great deal of work.
Each phase is a genuine challenge to be overcome for optimal management of the new normal in home decor marketing processes.
1 Filiera Legno-Arredo, 2021, FederlegnoArredo.
2 Filiera Legno-Arredo, 2021, FederlegnoArredo.
3 Le vendite online crescono ancora: gli acquisti saliranno a 3,3 miliardi, , 3 settembre 2021, Il Sole 24 Ore data from Osservatorio del Politecnico di Milano.
4 Furniture & decoration: uses and attitudes of the French in 2021,, 2021, OpinionWay.
5 Tutto su Very Peri, il colore Pantone 2022, , 9 dicembre 2021, Il Corriere della Sera.

3. Making content creation and management sustainable
In this phase, creators work on and manage high-impact visual contents.
If not correctly managed, this step may generate various hidden costs. To be specific:
Creating a content becomes a chaotic process. Product photoshoots and 3D renderings undergo continual revisions and approvals. Information is diluted via emails, phone calls or chats. Contents in production circulate via uncontrolled dataflows.
Locating a content is (almost) mission impossible. The contents produced are saved on desktops, in shared network folders only accessible to some team members, or in cloud locations not appropriate to marketing activities. It becomes hard to find what is needed and identify the latest version of a content.
It is difficult to remain focused on a project. As they create catalogues, fliers and brochures with graphic suites, creators continually skip from working programs to filing locations. Duplications proliferate and it is hard to trace the latest version of the project and be sure you are using the right contents for every creative procedure.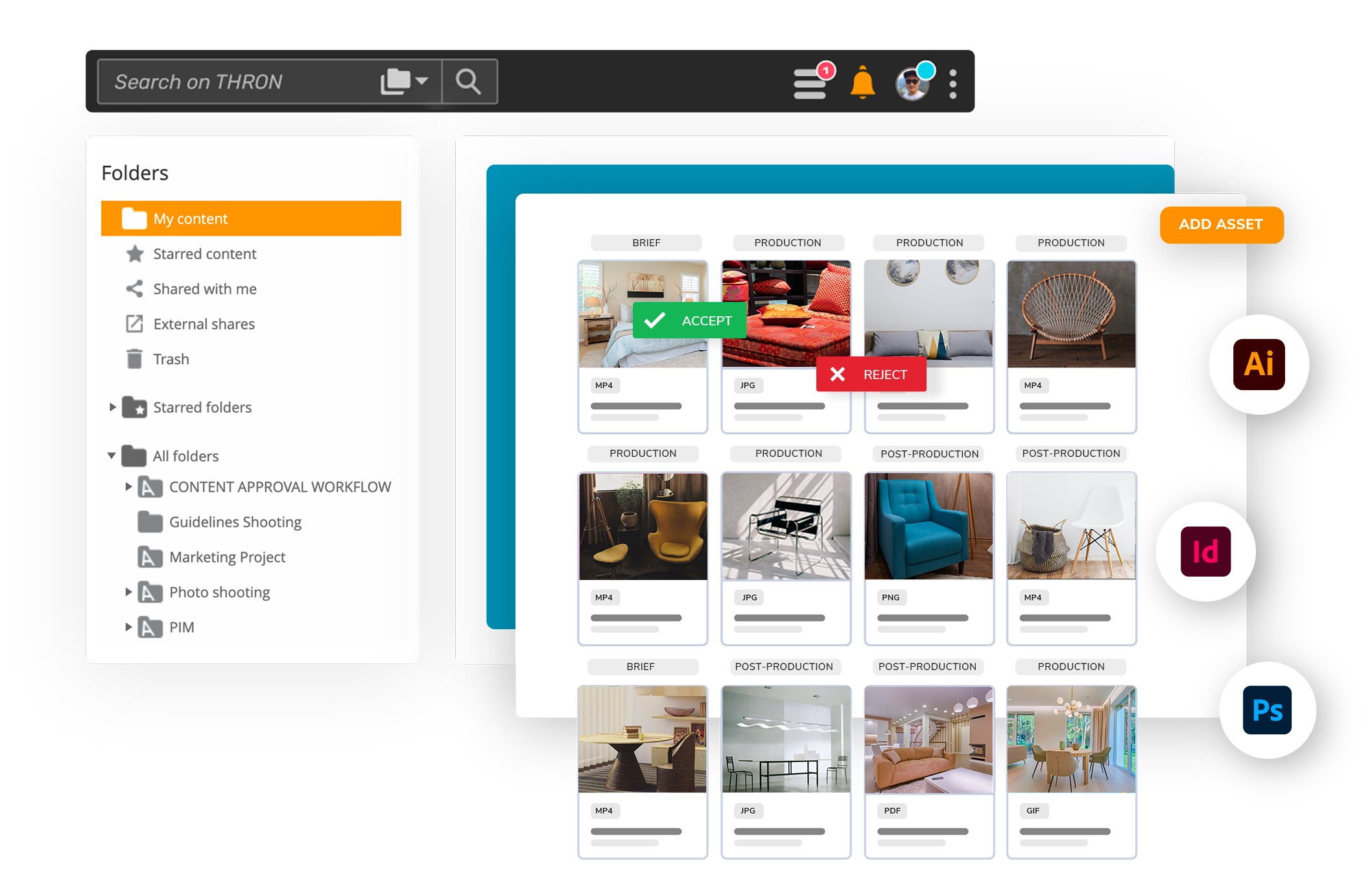 Remember: a digital asset management (
DAM
) system is a great help. We could talk in terms of a broader sustainability, which does not only include the raw material used for home decor products but also extends to the vision and care with which contents are created and managed.
4. Digital assets as expression of the brand and its products
A photograph of a chair is a content. A photograph of a chair accompanied by information such as its SKU code, materials and finishings is a digital asset. A photograph can be copied into any physical or digital database. An asset must be managed with a view to distribution on the final channels.
This is a fundamental step. Due to the number and complexity of the communication channels to be managed, contents and products must be one and the same thing, so they do not have to be paired manually at the time of publication.
If this is not the case, avoidable costs will be incurred. To be specific:
Working time. A great deal of working time. Pairing product information with each content is a crucial but very time-consuming activity, especially if it has to be repeated for every channel: catalogues, e-commerce, marketplaces and showcase websites.
Costs of integrating DAM and PIM. If product data are managed with a PIM system and contents with a DAM platform, integration costs may soar.
Remember: a digital asset (DAM) solution that includes functions for managing product information and automatically pairs it with contents can be priceless.
5. Distribution is the focal point in the digital asset lifecycle
A good asset badly distributed is like a wobbly designer table. They both achieve their aim, but only partially.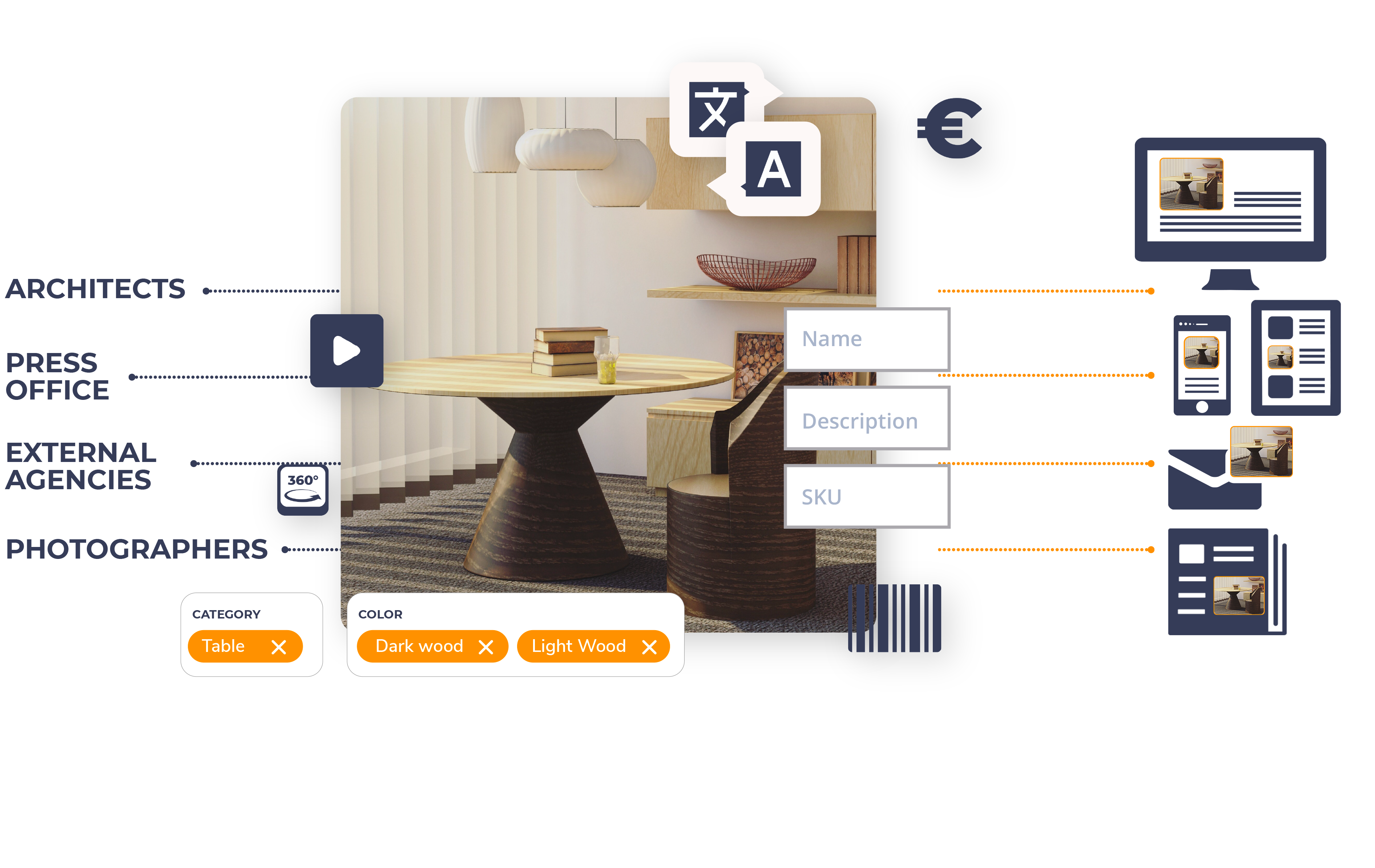 When a brand's contents are not distributed effectively, this generates costs. To be specific:
Updating the asset on every communication channel. Updating the asset relating to a sofa, for example, involves the replication of a series of activities for every channel on which the product is marketed. In operating terms:

generating contents in the format required by each channel

making a local copy of the content

uploading the content into the media gallery of each publication platform

removing the previous version of the asset

repeating the previous steps whenever the content for the touchpoint has to be modified or updated.

Traffic peaks and limited access to contents. Further to high-impact campaigns, the amount of traffic may trigger crashes that make contents inaccessible, with negative repercussions for the user experience (and the business). It is also important to consider the geographical spread with which contents are made available, especially given the crucial status of exports for the home decor sector.
Dialogue with company stakeholders is ineffective. Content distribution is not only a matter that concerns brands and customers. Up-to-date assets are the vital heart of the work of all a home decor company's stakeholders, because:

dealers need them to publicise the brand and product positioning downstream

architects use them to create their projects

the press office uses them for brand-related PR activities

external agencies and photographers continually exchange contents with the company during creative processes.
Emails, phone calls, chats and file transfers are useful tools but they are inadequate when the volume of marketing activities is high.
Remember: Although often underestimated, the distribution of digital assets is an essential factor for achieving the objectives of the content strategy. The best DAM platforms factor in contents' distribution from the first steps in the process, right from their creation.
6. Asset analysis and metrics are the design of home decor marketing
All marketers pay great attention to the creation phase. When we talk about contents - images, videos, audios or documents - we immediately think about digital marketing addressed to the outside: social media posts, blog articles, e-commerce product information, and so on.
However, a content's useful life does not end when its target interacts with it.
Many marketers underestimate the crucial role of content analytics.
This is not because they are short-sighted, but is due to the fact that the most widely used analytics tools only perform quantitative analysis, based on traffic on the digital channels.
However, access to metrics about digital assets is fundamental because it provides indicators about users' tastes and preferences and guidance on how to improve content strategy.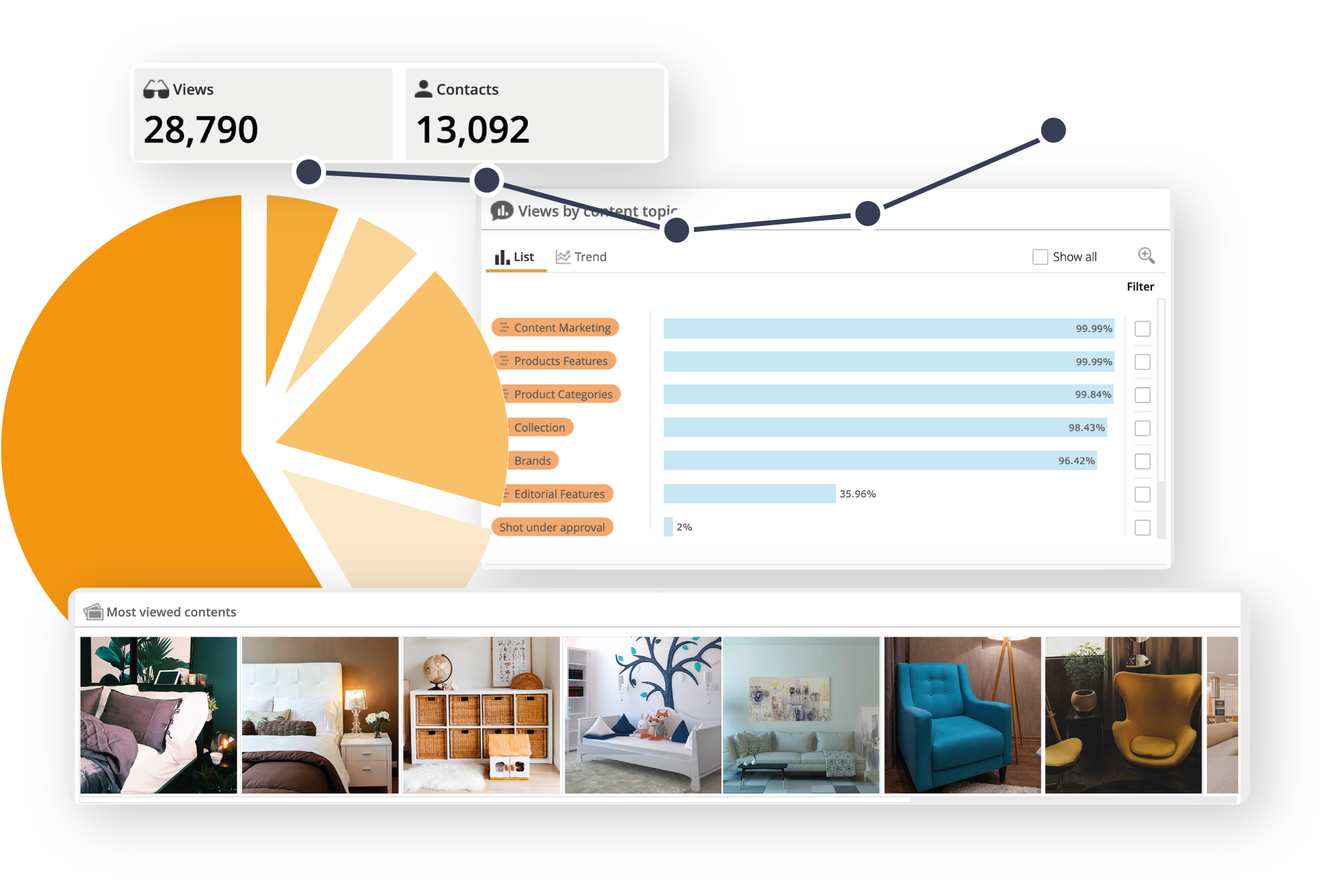 Without an approach of this kind:
It is impossible to measure ROI. No possibility of tracking each content's performances.

It is impossible to enrich CRM user profiles. Without content analytics tools, the opportunity to track users' behaviour and improve the efficacy of marketing campaigns is wasted.

It is impossible to offer personalised experiences. Unless you track the way in which users interact with contents, you cannot pick up their interests and thus offer them a personalised experience.
Remember: a DAM Platform also manages this crucial phase of the content's lifecycle. The data obtained enable you to improve your content strategy and reinforce your marketing activities.
Do you want to receive content like this once a month?
NORTH is the one for you.