Published on Apr 12, 2021 4:44:00 PM
You're almost there: the job is closed, the photoshoot is complete and your product shots are approved and supplemented with the necessary information.
Your catalogue is complete, organised and finally ready for publication.
Now you "just" have to take the step from approval of your product shots to putting your e-commerce site online. But this is not something to take for granted: you have to move fast in order not to lose the work you have done so far, but also to avoid duplicates and errors during the publication phase.
After reading this article, you will know how to:
>
Quickly publish your product catalogue on your e-commerce site
>
Automatically update your catalogue whenever you need to, on any channel.
The right tool can make the difference
Use a platform which allows your catalogue to communicate with your e-commerce platform and allows you to upload (and update) your products quickly and in an automated manner, without losing a single aspect of the customer experience. You will be able to work more efficiently and productively, providing greater value to your products and the customer experience.
THRON PHOTOSHOOTING is the THRON solution which allows you to manage every phase of your photoshoot, including publication of the catalogue on your e-commerce site.
Thanks to

THRON DAM PLATFORM

you can manage all content centrally

, including that uploaded and approved on THRON PHOTOSHOOTING, and supplement it automatically with product information.

With

THRON PIM

you can create organised and complete product sheets of any content type and

connect the THRON platform

to your e-commerce site with the native connectors

, in order to populate and update your catalogue automatically.
From approval of product shots to the online catalogue in a single click
With THRON PHOTOSHOOTING, you can move quickly from approval of the product shots to publication of the catalogue on your e-commerce site. How?
1. Create your product catalogue in THRON. The product shots, once approved and finalised in THRON PHOTOSHOOTING, are already supplemented with all the product characteristics present in your database. Thanks to THRON PIM, you can also organise your catalogue with product sheets complete with any other content type, from videos and documents right through to 360° product images.
2. Integrate the THRON DAM PLATFORM with your e-commerce site. Go to our Marketplace, download the plug-in and follow the configuration instructions. Thanks to an automatic process, the system will import product information and content from THRON directly to your e-commerce platform.
3. Choose when to update your catalogue. Establish the timing and the connector will automatically update the catalogue whenever it finds new products or content in THRON: only the approved product sheets will be published. You can also perform a manual import at any moment.

The advantages of the CONNECTORS
THRON's CONNECTORS, available for the main e-commerce platforms, allow you to offer your users complete, multimedia product experiences, eliminating duplicate content and the risk of errors within the catalogue.
No duplicates
The catalogue will be published on your e-commerce platform directly from THRON: no intermediate steps, no duplicates, no errors. Only approved products and content will appear.

Using the Universal Player
You can publish images, videos, playlists, documents, and even 360° product images and panoramic videos. The contents of your product catalogue will be displayed to your audience via THRON's Universal Player, which is able to handle any type of content. This includes content types that your e-commerce site does not natively support.
Automatic updates
Whenever you edit information or upload new content to THRON, your online catalogue will be updated automatically, saving you time.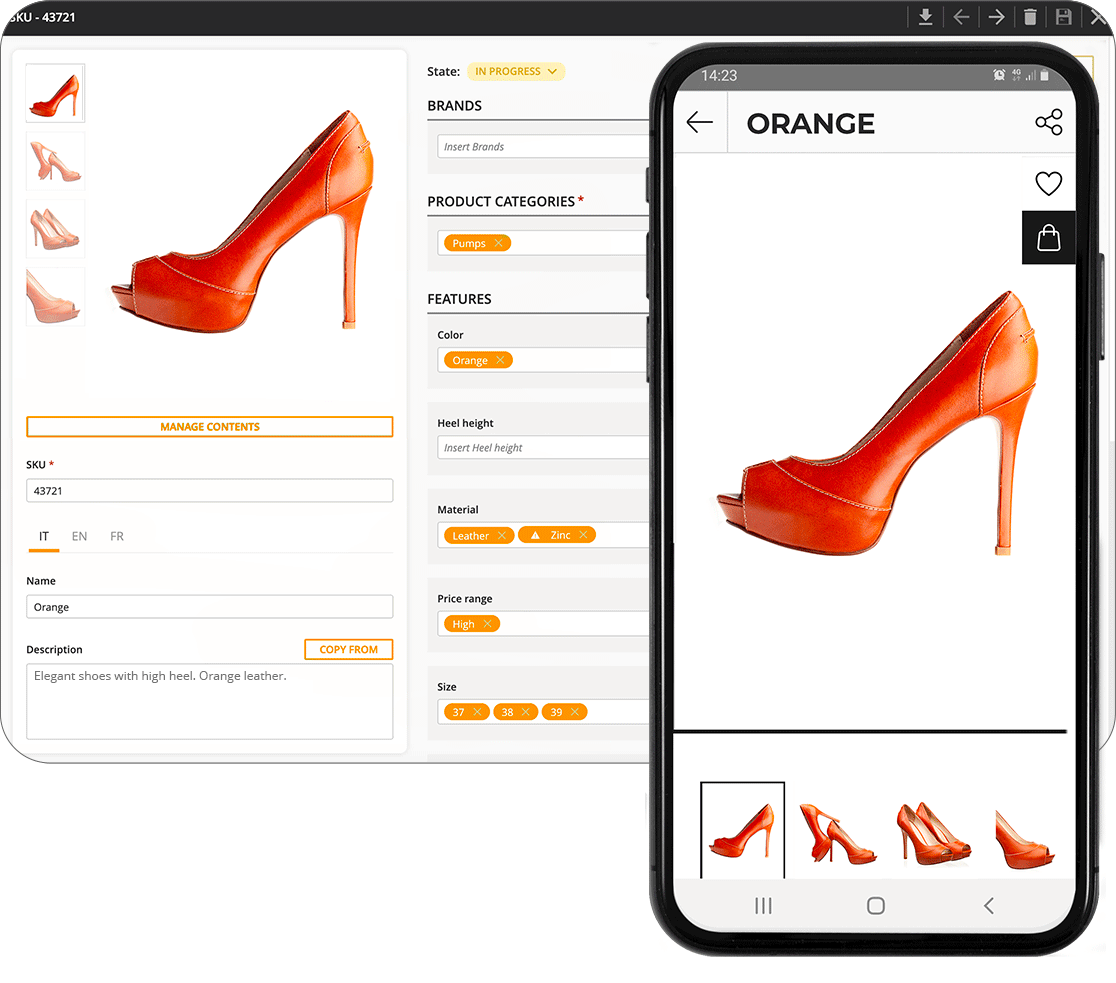 Integrate your e-commerce platform with THRON
Find out how to connect your e-commerce platform to THRON. Visit our Marketplace and configure the connectors for Salesforce Commerce Cloud and Magento.
Do you use another e-commerce platform? Contact one of our Success Managers and find out about upcoming THRON connectors.
In some cases, the best solution could be to integrate THRON with your system via our API components. THRON's Success Managers are at your disposal to evaluate the best integration solution for your company together.
Do you want to know more about THRON PHOTOSHOOTING?
Ask for a free demo.