Published on Mar 24, 2022 9:30:00 AM
In 2021, 82% of businesses made use of content creation strategies1.
Photos, videos, graphics, podcasts, documents, or blog posts like the one you are reading now. A content talks about the brand or its products or services, and has vast ROI potential.
Content creation is one of the most effective forms of inbound marketing and is able to generate up to three times more leads than other instruments, while costing an average of 62% less2.

All our buyer journeys are becoming more and more digital.
We are now used to finding answers to our queries and solutions to our needs by searching the web with Google, browsing marketplaces such as Amazon, or simply asking Alexa.
Brands are well aware of this, and to ensure that the right people find them, they have to create contents suited to each of their customers. However, there are many content creation activities, and they differ widely.
Creating a content demands great energy and resources of marketers, so they inevitably ask themselves, "am I creating contents in the most effective way possible?". If you're reading this, you may well have asked yourself this question 😊
On this article, as well as a flash on the concept of content creation (and a few curious facts!), we provide a quick quiz with five questions you can ask yourself to assess whether your content creation processes are really effective. Reading it will provide you with some useful practical inputs for improving your work and that of your whole team!
1 The Ultimate List of Marketing Statistics for 2022, 2022, HubSpot.
2 The Ultimate List of Marketing Statistics for 2022, 2022, HubSpot.
Index:
What is content creation?
What makes a content marketing strategy unique is its ability to dialogue with potential customers, provide them with values and guide them towards a more or less informed choice.
For example, The Lego Movie, which entertained millions of spectators in cinemas in 2014, reinforced the toy brick brand's positioning.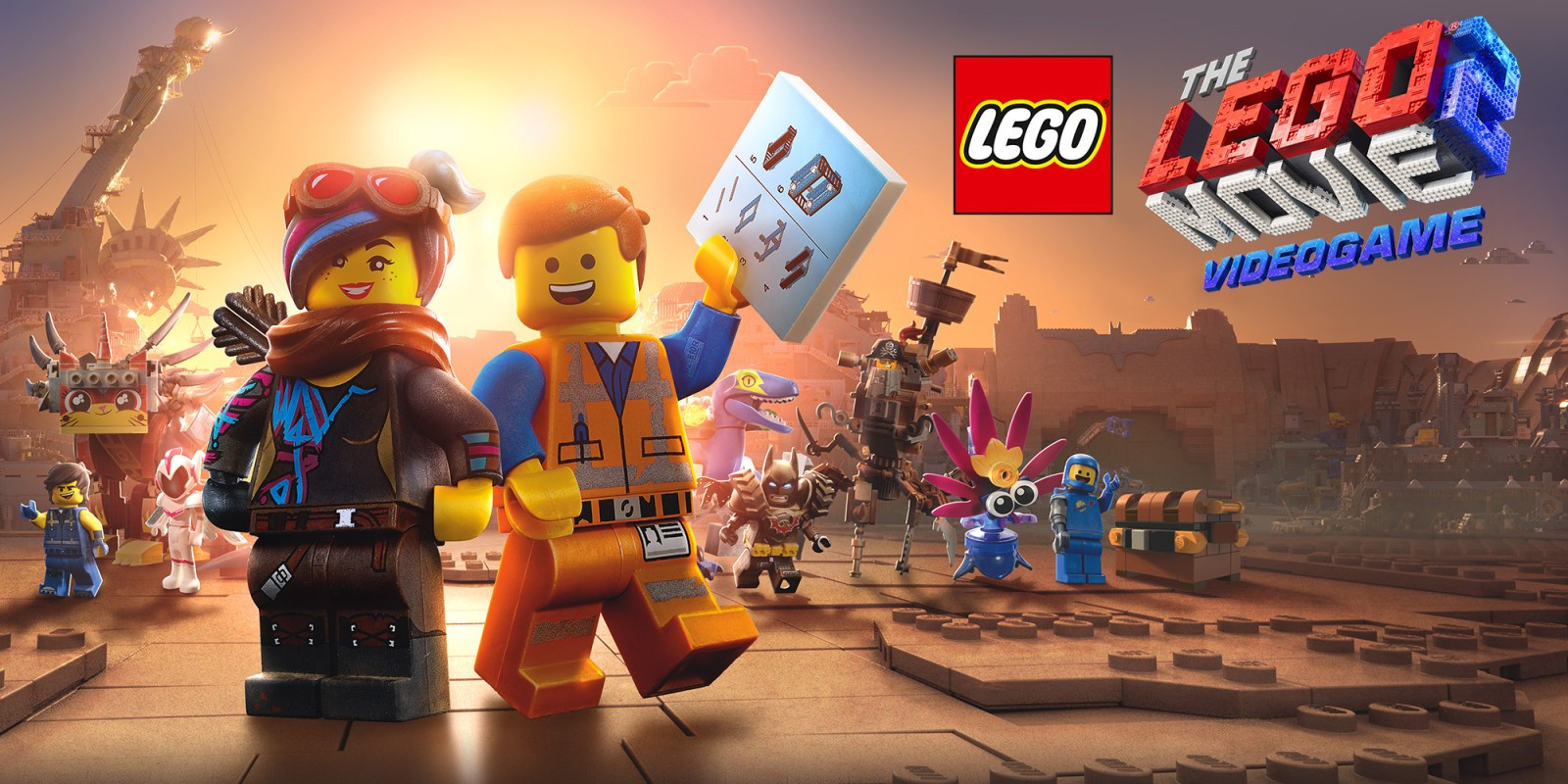 IMG 1: Lego Movie 2 - One of the video games based on the Lego movie
Without spending budgets of feature film size, the big Italian brands also invest in content marketing.
Examples? The Barilla Spotify playlist for perfect timing of pasta cooking or the Buitoni YouTube channel with its video recipes.
So content creation is not only found in the strategies of the large global corporations.
Thanks to content marketing, customers reward brands by purchasing their products and services, because through contents brands entertain them, reply to their queries and share their knowledge on topics of interest in an authentic way.
Content marketing: a long story (quickly told)
The term "content marketing" was coined in 1996, but don't get the impression it was a child of the Internet era. Digitisation merely required brands to dust off a technique that originated about 300 years ago.
It was in 1732 that Benjamin Franklin, one of the Founding Fathers of the United States, launched Poor Richard's Almanack. Apparently, this was an annual calendar with weather forecasts, advice for the home, riddles and stories of various kinds.
The structure and quality of its contents attracted an ever-growing number of readers, who eagerly bought the latest edition each year. Published for 26 consecutive years, the almanac promoted Franklin's printing business.
Another historic example of content marketing is The Furrow, , the magazine first published in 1895 by John Deere, the owner of an agricultural machinery business. Providing useful advice to farmers, the magazine – still read worldwide today – played an important role in the positioning of Deere & Company, the corporation founded by its historic author.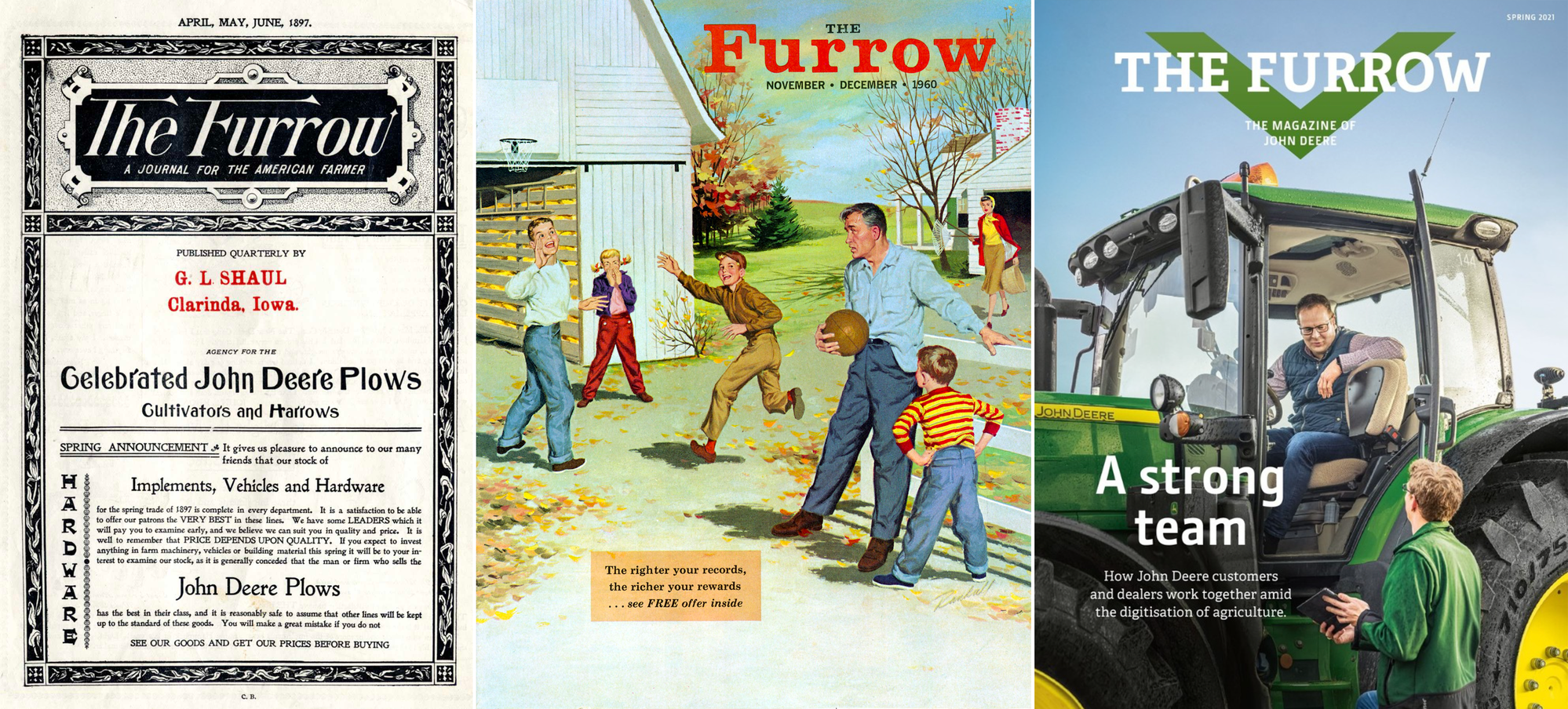 IMG 2: Some covers of "The Furrow" magazine
We are all more or less familiar with the rest of the story.
Today, content creation - in both B2B and B2C contexts - is the vital heart of brands' strategies, increasingly deployed in a digital environment, from search engines to e-commerce sites.
The role of content in business 2.0
Given the volume of user interactions recorded on the web every day, the continual creation of new contents is essential. In Italy alone, more than 50 million people use the internet3 on a daily basis.
Search engines are the main tool through which consumers discover new brands, outstripping more conventional methods such as TV commercials and word of mouth. New media such as social media posts and brand websites are also growing at a dizzying rate4.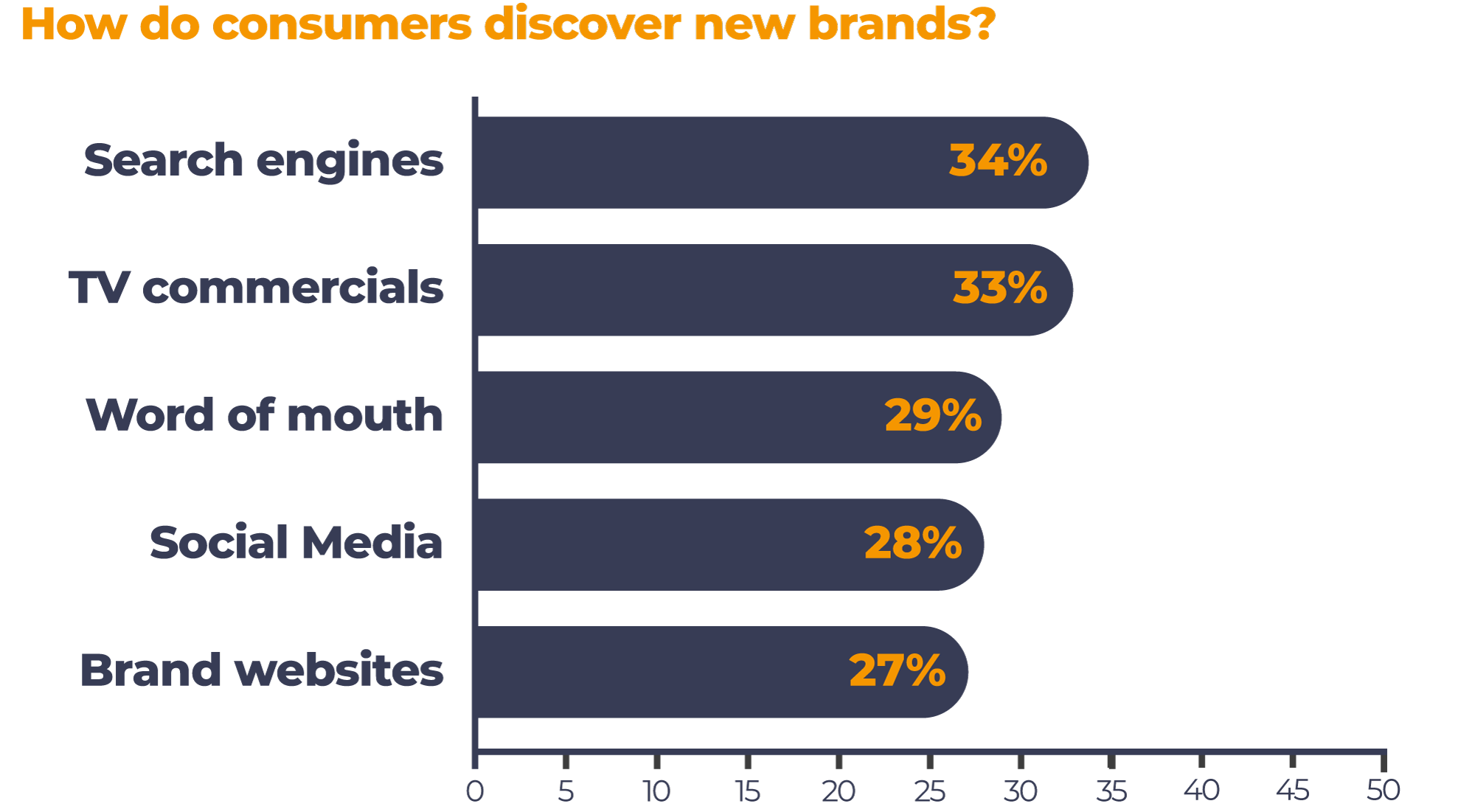 Fonte: Digital2021 Italy, 2021, Hootsuite
The multiplication of touchpoints requires the continual production of digital contents, customised for each channel but all aligned and consistent with each other.
The activities required vary a great deal depending on the company's organisation, the type of asset to be produced, and the intended channel. However, there are a series of common steps involved in all content creation.
To be specific:
The creative brief

Creation of the concept or draft

Approval of the content

Its distribution

Internal (across all company teams)

External (to the market and stakeholders in general)

Analysis

Subsequent revisions and updates
These activities are normally supported by technology and especially DAM, or Digital Asset Management solutions, which enable brands to manage all phases of contents' lifecycle.
3 Digital2021 Italy, 2021, Hootsuite.
4 Digital2021 Italy, 2021, Hootsuite.
5 questions for rating your content creation
Data and statistics reveal a close correlation between ROI and content marketing.
Measuring their content strategy's return on investment is fundamental for marketers, since this activity requires a great deal of energy and resources. However, calculating this is a complex undertaking, because it is often hard to measure a content's impact on conversions.
In spite of this, there are some parameters which, although they do not supply a numerical indicator, help to define the value of content creation activities. Below, we summarise five basic questions you can try to answer to assess the quality of your team's content creation. Shall we start?
--------------------------------------------------------
1. Whether you are a content creator or a Project Manager, how many different channels does your company use to share feedback on contents? Also include revisions exchanged with suppliers such as agencies, photographers and freelancers.
Some examples: e-mail, Microsoft Teams, WhatsApp, Telegram, file sharing services such as WeTransfer, cloud spaces like Google Drive or Dropbox. "Follow-up request" phone calls also count 😉
How many tools do you use to manage revisions?
+3

2-3

1
If you answered

a

or

b

: there's

potential for improving the way your team works

. Let's take the example of a shoe brand that has its product photoshoots done by an external agency, with which it exchanges the shots from the job via We Transfer. The shots are then processed by the creative team and - prior to publication on the website, social media and e-commerce platform - approved internally by means of Teams. Although there are only two tools, the continual uploading and downloading generates multiple copies of the shots on different media, making it

impossible to know with any certainty which is the latest version of each of them

.

Time is often wasted

looking for what people need or, even worse,

there is the risk of using or distributing content that is not up to date

. Obviously, the problem is amplified as the number of tools increases.
If you answered

c

: you've already centralised content revision, probably with a

DAM Platform

.
--------------------------------------------------------
2. Do you and your company use structured activities for the approval of contents for publication? If so, are workflows flexible and can they be personalised independently by the team?
Bear in mind that: although company chats or emails are "digital tools", they are not able to create efficient processes - they simply generate unstructured communications.
How would you define your company's internal digital processes for content approval and collaboration?
I don't have any digital processes

Inflexible

Flexible



If you answered

a

:

the approval processes for your brand's contents have a great deal of room for improvement

. In fact, digitising content creation activities offers a number of benefits. Such as?

Automatic change in state

as activities progress, or

tracked exchanges of feedback

for every phase in the process.
If you answered

b

: you certainly benefit from the digitisation of activities, but

the tool available to your team might not be responsive enough if you should need to evolve the workflow

. If you have to know how to code, or call in an outside consultant, to modify or create a workflow, the times required to organise activities could become much longer. Bear in mind that the market offers content management solutions with "low code" workflow functions, which can be configured by users themselves in drag & drop mode.
If you answered

c

:

your contents are being approved very effectively and flexibly

. If content approval takes place inside a DAM Platform, then it couldn't be better, because the content hub is aligned with the new versions of the contents in real time.
--------------------------------------------------------
3. Getting lost in the maze of activities for the creation of every single content is easier than you might think. Especially if you do not have suitable tools to keep you on the right path.
Bear in mind that: filling your diary with "progress updates" to find out what your colleagues are doing is not sufficient to avoid bottlenecks and provide an accurate overview.
Are you able to monitor the process of activities?
No, but the team and I compare notes at the start and end of the process

No but I constantly align my work with my colleagues

Yes, at any time, with one click



If you answered

a

: if your content creation flow is complex and needs a large number of revisions, you might find it

hard to meet deadlines

. It is a traditional cascade model for managing activities, with objectives set upstream and final review only at the downstream end. Many marketers prefer an agile approach, supported by digital tools, to avoid overrunning on production times and to monitor the progress of work at any time.
If you answered

b

: continual meetings and alignments may be

time-consuming

. Moreover, the vision arrived at during a meeting may become obsolete fast, because it is out of sync with the real progress of activities.
If you answered

c

: you're using dashboards that enable you to keep content creation activities under constant control. In the best hypothesis, you're monitoring ongoing processes directly from your Digital Asset Management tool.
--------------------------------------------------------
4. Think about how long it takes to populate web and e-commerce sites with contents and the relative product data. Have you ever thought you are spending "too long" on managing this activity?
Bear in mind that: a content without its accompany product information (such as SKU code, materials, size, colour, etc.) is unlikely to have a positive impact on your business, because it will provide only a partial experience on the final channels. What's more, you will be unable to measure its real impact in terms of ROI.
Does it take time for you to associate product information to contents?
Yes, it takes a long time

Not me, but colleagues take ages

No, the pairing is automatic



If you answered

a

:

you're investing a great deal of energy

in an activity that could be delegated to technology. There are tools, such as DAM systems, that automatically pair product information with contents. What's more, the best DAM Platforms offer machine learning functions to recognise the product shown in the content, proactively guiding marketers in content enrichment. Otherwise, you could choose a PIM tool and combine it with a traditional DAM system, but the resulting

integration costs

have to be considered.
If you answered

b

: and you care about your office's efficiency, go straight to answer

a

.
If you answered

c

: you very probably have a

DAM Platform

, which enables you to manage contents and the relative product information natively.
--------------------------------------------------------
5. Analysing the results of your content creation activities is a fundamental step for creating contents of ever-improving quality. To do this, you need suitable instruments, combined with "traditional" tools.
Bear in mind that: tools like Google Analytics or SemRush only provide a traffic-based quantitative analysis and do not include a qualitative analysis of how contents are used.
Are you able to obtain data and statistics on your contents' performance?
No, I only use traditional web analytics

Yes, but I only glance at the figures

Yes, and thanks to them I have a data-driven strategy
If you answered

a

: you are missing the opportunity to gather precious insights on your content creation strategy. In fact, the standard analytics tools provide you with information about volume (of sessions, pages viewed or users on the website). The content analytics tools of the best DAM Platforms, on the other hand, allow precise analysis of the times and the ways in which every single content is used, giving creators and managers accurate feedback on their work.
If you answered

b

: be aware that, if properly used, content analytics can be much more than a chart full of figures. In fact, thanks to AI functions, brands that use a DAM Platform exploit content analytics to reconstruct the customer journey of every user who comes into contact with its contents, offering them a completely personalised purchasing and browsing experience, based on their individual interests.
If you answered

c

: and you combine the quantitative analytics of web analytics tools with the qualitative ones of a DAM Platform with content analytics functions we're sure you'll have noticed the difference in terms of ROI. That's what has happened for our clients.
--------------------------------------------------------
Want to know how you got on or ask us some questions? Write to us at marketing@thron.com.
Do you want to receive content like this once a month?
NORTH is the one for you.